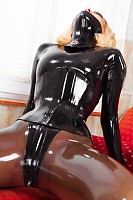 Everyone is different and all women will have various ways they feel sexy. For some it might be a simple little black dress; for others it might be sensual silk underwear; we all have different imaginations and feel sexy in many ways. Many women might call me a slut or even sexist, but for me I feel most aroused when I am dressed very sexily with gorgeous, heavy make-up.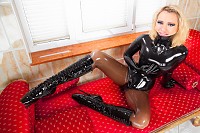 Obviously you can see that I feel very sexy when I wear latex. I love the look of rubber on my body, how it shines and even how it sounds and smells; but I also love how it feels, how it clings to my body, sticks to me with the lube and how it moves with me.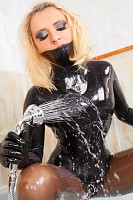 But there are other things that make me feel sexy and sensual.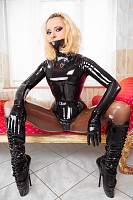 Take my ballet boots as an example. I have no idea why I find them sexy. They force my feet into an extreme angle, they crunch my toes and I can barely move my ankles. I can barely stand up in them - but I am practicing and getting better!
Maybe it is the way they fetishise something so elegant and beautiful as ballet. Maybe it is how they make my legs look longer - I'm only little Maybe it is the cool, long lacing as they fit tight on my legs and feet. Or maybe it is simply the restriction of them, forcing me to uneasily teeter and totter around.
Whatever it is, I am so pleased I was given these as a present last birthday. I love them so much I am now using every opportunity to lace them on and practice standing and waking in them, and I have now managed my first small steps.
I also love my corsets and in this set I wear TWO of them! But what? How can that be, you ask? A girl like me may have two titties but only one waist - so why two corsets?
Well, thanks to Simon O. I now have a special corset for my neck. I normally have my metal collar locked on but for this I have to have it removed so this special corset can be laced in place, tightly and rigidly around my neck and even covering my chin and mouth. It looks so cool but is a form of bondage because I can barely move my head - maybe a little bit up and down but hardly at all left and right. And that makes walking on my punitive ballet heels even more tricky because I can't look down at where I'm placing my pointed toes. But - how do you say it in English? Where there's a will there's a way! The neck corset meant I could barely see where I was walking and I could only take tiny steps with me feet forced upright into the "en point" position in my ballet heels, but I still enjoyed my restriction and the feeling of being squeezed - so much so that I also wanted my latex corset around my waist. So I made sure this was laced as tight as I could, so I could hardly breathe - but I loved it all. And, of course, all of this was worn over this wonderful new latex catsuit from Simon O. It is such a perfect way to show off the corsets on my tiny waist and squeezed neck. Plus the smoky transparent legs of the catsuit are brilliant for showing off the shiny patent black boots laced on my feet (and my body was covered in rubber right down to my toes in this catsuit as it has enclosed feet!!!) So while some girls might feel sexy in a floaty summer dress or a comfy pair of jeans, for me it is the restriction and tightness of all this rubber and lacing, corsets cinching my waist and neck and my feet forced up onto tip-toe in these beautiful ballet heels - it may seem odd but these things make me feel totally sexy. You can see all the tightness in this gallery and video - my life is full of surprises and eroticism Enjoy my restraint 😃 I did! 😃
Lara Larsen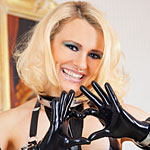 Join Now for Full Access