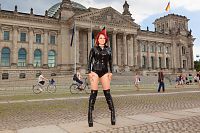 Berlin, Berlin - a metropolis and the capital city in Germany. So, it was a matter of time that I have to go to Berlin and I visit some sights and highlights. You can imagine that there are many such special places in Berlin.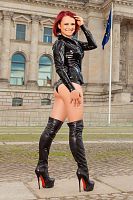 So, one of my first destinations in Berlin was the Republic Square in Berlin, especially the Reichstag Building. It is a tingling feeling to know that I stand in front of the building where many political decisions are taken and that this massive building is so often seen on television. According to this fact it's clear that this place is very well monitored because every day hundreds of tourists walk by.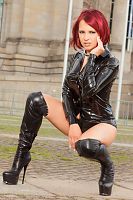 That's the reason why I didn't want to visit this place with my black latex cat suit and a latex hood. Who knows what the security could misinterpret. 😃 On the other side it was very hot on this day so I rather decided something short.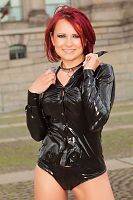 I recently got a parcel by SlinkyStylez containing special short hot pants. It is one of these shorts which are for some people nothing else than a kinky panties because it's with the camel toe cut. The dirty truth is that this hot pants moves with every step higher and higher. It is as it would love to expose more and more of my sexy bum. *chuckles* However, for me it is the hottest hot pants I ever wore and I'm very proud. I chose my black latex blouse to make a cool shiny and elegant look at all. That was already sexy but the special were my shoes: I took my new over knee boots by Arrollo and noticed at the tourists that this combination was outstanding at all. But the very special thing of my outfit is not the latex blouse or the hot pants but my beautiful over knees boots by Arrollo. Join Now
At least, I liked my look and felt perfectly sexy in Berlin. So, now let us not talk about details like are these hot pants hot or very hot. In fact, it exposes my butt for your while I stand in public so I hope you love my photos as much as I do. Join Now
Lara Larsen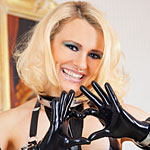 Join Now for Full Access