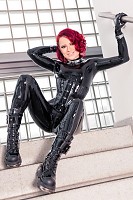 I got a phone call from an anonymous number. On the phone was man who I assessed as middle-aged and he spoke with very deliberate words. He started immediately as I took the phone and just before I could say Hi. "You'll get a black latex catsuit and a latex corset in a neutral package. Wear both and come to the back door of the local shopping center." The voice sounded neither threatening nor unappealing but I could not assess the person. However, before I could ask who is the caller he hung up without any other word. With total disbelief I looked on my phone and wondered whether that was a hoax call. I mean someone is sending me a latex catsuit with a latex corset without any announcement and just with the order to come to a meeting point. Who spends so much money for me without knowing me? But then I smiled because obviously the caller knew me very well. It must someone who knows that I love latex and especially a latex catsuit and who would wear this outfit in public?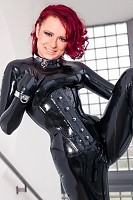 However, I was just thinking that everything was certainly a fun joke as the doorbell rang. A friendly postman gave me a light package with the sender Fantastic Rubber. Very intelligent, I thought! The latex garments come directly from the latex designer and so the sender itself keeps anonymous for now. I opened the packet with a childish curiosity and saw seconds later a beautiful latex catsuit and a surprising strong latex corset. I had never a latex catsuit before without a back-zipper. So you want to see me completely in latex? Okay, but how the caller could know that I felt in love for these latex catsuits without the zipper on the back.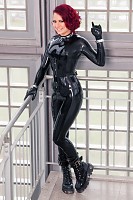 I couldn't wait any longer and think about this real miracle because I already began to lubricate the catsuit to take it on. I started with my feet, then I got my naked legs in the tight latex pipe then pulled the catsuit over my belly and finally I took my arms in the catsuit so that my whole body was fully wrapped into latex. Surprisingly, the latex was thicker as my other catsuits and therefore I felt every movement on my skin and trust me it felt so good in this catsuit. I was wondering if the catsuit was custom made but in that case the caller should know even more details about me as I thought before. Somehow, it was a crazy situation but I am a good girl and was already ready to go as I saw the black latex corset in front of me. Oh yes, my very first latex corset at all and I started to introduce myself in the first minutes to tightening myself. As a real latex lover it was a big passion for me and so it took so felt hours to lace the corset as tight as possible. I turned around to the mirror and I felt in love because the look was so hot. The latex corset made such a thin and feminine waist that I felt myself sexier as before.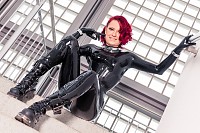 So that's the way you want to see your latex girl? I was giggling and I had butterflies in my stomach. I loved this latex doll in the mirror and it was hard to take the look from myself and take off to the benefactor. But I wanted to meet this nice patron and so I started to go immediately to the mall. Because I don't have a car so I drove with the bus and felt that I was not the only one who loves the corset effect. It was such a good feeling and I presented myself proudly while I stand in the middle of the bus and showed everyone my shiny latex ass in my shiny latex catsuit.
I arrived at the mall too quick in my eyes because I liked how the guys looked on me. However, quickly I walked in my boots to the back door and saw a red ball gag on the doorknob. I started to laugh because now I knew exactly who was calling me. My photographer came out laughing behind the flash and said "happy Birthday sexy latex slut." I felt in his arms and asked how he could be so mysterious to me. He replied just with a laugh and I did know that he makes me another present: A photoshoot with this sexy new latex catsuit and latex just corset for YOU! That was so much fun for me and I hope you have much pleasure with these super beautiful photos and video.
Lara Larsen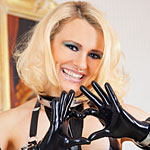 Join Now for Full Access