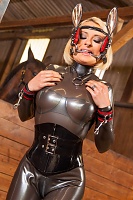 You may have seen pony girls on the internet. I discovered them recently and when I saw some of the wonderful outfits I immediately wanted to give it a try. Some of the outfits are incredible, with matching leather harnesses and amazing pony boots and even gloves shaped like hooves that can be laced or locked on. This is something I would love to try one day, but first I needed to find out how to become a pony girl. I looked it up and found how some girls have real bridles, attached pony ears and a metal 'bit' so reins can be used to command and control them. So what better way to try being a ponygirl than to head to a horse farm – near Cuxhaven in Germany – and live as a pony for a whole day, kept in a stable among the hay and real horses. I had my own horse box and quickly felt comfortable, settling into my role as a sexy ponygirl.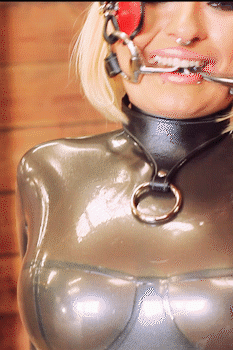 Of course, there is for me only one true outfit for a pony girl to wear: a full latex catsuit. Horses are beautiful, noble animals and to do them justice I felt I must look the part, so I chose my sexy silver rubber catsuit by Simon O. I teamed it with a tight, black waist-cincher and, to match its gorgeous shine I wore patent Doc Marten boots. But the real finishing touch for my day was the beautiful bridle from Rabenleder, which had gorgeous red detailing, so I had matching black and red cuffs buckled tightly on my wrists.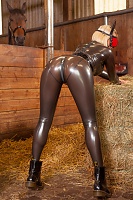 The bridle took some getting used to, I can tell you. It was buckled on my head with all sorts of fastenings and adjustments. The metal 'bit' made sure I had to keep my mouth open the whole time. It had a long 'U' shape that pushed between my teeth over my tongue, so I couldn't talk and it made me drool, which was so humiliating (but I love humiliation like that *giggles*).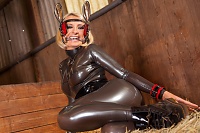 But that is what this is about for me – I give up control. I am a sexy pony, harnessed and gagged, and I couldn't even see properly as the 'blinders' on the bridle meant I could only look straight ahead. I had no say in what happened and could just relax, feel as kinky as I want, sealed in tight latex, shiny, corseted, restricted. There are no worries for a pony girl, just obey and be a good pony. I just had to follow my orders: stand, trot, halt, and even spread my legs, touch my tits – if there is anything I am good at, it is this *giggles*. I followed the commands. I stood still, spread my legs and bent over, and drool streamed from my mouth – I couldn't stop it with the metal bit clanking against my teeth. I presented my latex ass with the catsuit zip so inviting and I felt slutty and sexy and kinky and very, very horny. The rubber catsuit inside the stable made me sweat, but it was the feeling of being displayed and ordered to 'perform' that made me feel hot.
I loved being a ponygirl, sealed in tight rubber and shiny boots and it has not been the only time I have been to the farm for pony girl training It was like a holiday to be there with the animals, and me right in the middle of it all, on display in rubber. I loved it. I hope you love my pictures and the video.
Lara Larsen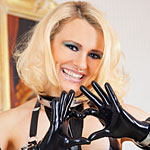 Join Now for Full Access