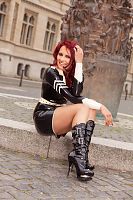 I had lived in Brunswick for a short while and so it never came to my idea to visit this city with my journalistic point of view and or in latex. But I can tell you so much about this place that it's for sure exciting.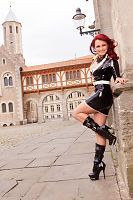 For my short sightseeing tour I put on my cheeky black latex dress which I didn't wear for a long time. But why I write "cheeky" with "latex"? Well, simply because it constantly repeatedly slid up and showed more leg than I planned to. But honestly, I love this dress very much because it is very suitable for everyday use and feels incredibly good and sexy.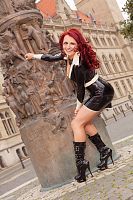 To perfect my look I chose my black boots and realized that I had looked very hot but this combination was a totaaaally wrong choice for Brunswick. Not only the castle square in front of the Cathedral of Brunswick is covered with cobblestones, no actually, the entire city is incredibly rude for high heels and boots with stilettos. I strongly recommend when visiting this place to wear wider heels and yes Brunswick is worth to visit as it has some very pretty things to see.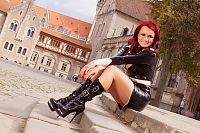 These pictures were mostly done on the castle square in front of the Brunswick Cathedral which has for sure seen a lot within the last 840 years. Of course, there is a regularly Christmas Market, the open-air theater and of course also the landmark: the Lion of Brunswick. Certainly, there were not much people in latex and for sure no girl in black latex dress. A shame – isn't it? *giggles*
In this sense, these images are so unique and special. For me, the images were again something fantastic. As always I have to handle all the friendly and happy people who prove the interest in my latex fashion taste. And on that day I could an older couple show the special charm of latex! Whatever, they seem to have liked my black latex dress as they were so cute and wished me a lot of joy. And you know exactly how much I enjoy latex, right?
Lara Larsen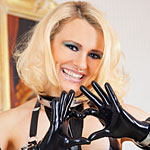 Join Now for Full Access