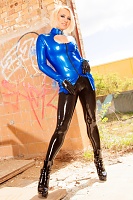 What a beautiful and incredibly crazy day. Currently, I look daily out of my window because the weather forecast is often totally inappropriate and it is difficult for me to plan a photo shooting in a perfect day. Once, it is said the sun is shining but it's raining all the day and once there is a really nice sunny day and I have to work. BUT I have this beautiful blue latex dress which I really wanted to wear for the next photos.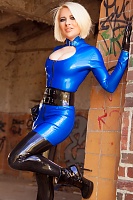 At some point I didn't care anymore for the weather and even if it is raining and super cold I wanted to do the coolest photos ever. It was a perfect timing because I was asked to write something about the small town Bitterfeld / Germany and do another good job there so it was more than good to make photos as well. So we took off even it was raining and very cold so I carried below my blue latex dress still my black latex leggings. Actually, I liked this combination of sexy dress and leggings but now I noticed that this combination was also a good idea not to freeze too much.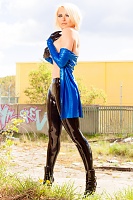 I've planned to make the photo shooting directly in the city center but somehow I looked around and saw a huge abandoned building. It was not really "nice" but it was obviously here for a longer time without any people and so the windows were broken and all around it was crashed and demolished. "Perfect" - I thought! This was a fantastic backdrop of me even it was not was I thought and planed. But the look of the building was so cool that I couldn't resist begging to make the photo shooting here. And when I look at the pictures it was good that I was doing so because I love the series soooo much.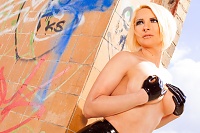 It was incredibly cold and the clouds hung so deep that I thought a big storm will come soon. However, we started with first pictures and slowly the sun came out and I felt so well that I went through the house looking for a place where I could be and enjoy the sun. It was such a nice feeling and the warm sunbeams were so good on my body that I felt myself forced to take my blue latex dress off and jump around as the rain was now for several days. So, if you also want the summer coming I hope that my photos will help you a little to wait just some days and give you a little sunny and rubberized taste for the near future. 😃
Lara Larsen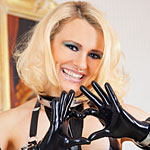 Join Now for Full Access