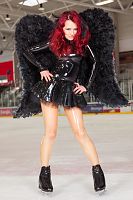 I'm sure you know this situation: You walk around and within a moment you have a totally crazy idea in your mind and you can't forget it. I mean such an idea which was never there before and even you know that you have to do a lot to realize it you are already addicted to it.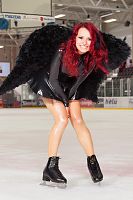 This photo set Is exactly a product of such an idea which I got in my mind. And whenever I have such an idea I need to activate all my energy to realize this idea exactly how I have it in my mind.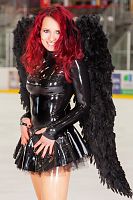 So, perfectly while we have these hot summer days I show you my photo set "Black Swan on Ice" while I froze so much. In the one hand it was a very cold day at all but on the other hand wearing transparent latex leggings, a latex body and a latex skirt on ice was very cold as well. Ohhh did my little bum froze so much while I had to sit on the ice. But if the photographer says I have to do I follow of course. Finally, because I know that his photos always get fantastic. So, I clench my teeth and was a good girl... and finally the photos got great and every effort was worth.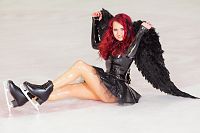 By the way the photos were done in a real ice rink. I have absolutely no clue how the photographer gets these locations but whenever I tell him such a crazy cool idea he moves heaven and hell for me to make such a photo shooting real. Of course, we didn't have the ice rink alone for us so I was the attraction on ice... a real Black Swan on Ice. And trust me I was so proud about this moment. While everyone had warm winter clothes I sat on the ice just in thin latex. Join Now
And what do you think who felt so goooood? Me of course! Latex is the best material ever. It's so soft on my skin, wraps my body tight and is simply sexy... I love it. Join Now
Lara Larsen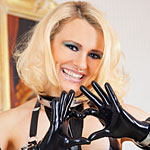 Join Now for Full Access