Now come the days when I'm home much more often. A rainy and cold day just does not invite you to take a relaxed walk. So my days in front of the door are getting shorter and shorter and I start to make the sunless months more beautiful with other things. And frankly I manage that, because I know exactly how I can really relax. There are on the one hand extended moments in the bathtub or something, but of course there is something that really delights me: latex!
Ok, that certainly did not come as a surprise, but for me it really is like that, that I am creating a world of my own. Of course, we have to differentiate between wearing a latex leggings that I wear on the street or making a little ritual for myself.
That's exactly how I had it today! I bathed extensively and felt just right. I really wanted to keep this beautiful feeling and since it was cold outside and luckily I did not have to go out the door, because I wanted to create a really nice atmosphere for myself. And that works best with a dreamlike latex catsuit by Simon O. Ok, I would like to put on this catsuit on the street, but I combine my very strong latex corset and maybe even extraordinary boots, then this is my world all alone.
The corset makes my waist just incredible and it feels like I'm just hugging relaxed. Somehow a crazy feeling and it looks incredibly sexy for me. For this I took now a blue jeans HotPants and blue boots, which are a totally cool gift from my friend René. The boots are a crazy combination of just boots and ballet boots and just look amazing. I'm still not so sure that I could wear these boots on the street but at home I like to run around in it.
Overall, I just felt fantastic and the special kick was not my metal collar, as many would expect. No, I wanted to wear my red latex ball this time. Actually, certainly not a feeling, what cries for relaxation, because this ball gag is really big. But somehow, from time to time, there is a need to carry or do something that is not normal and totally extreme. At least that's how I feel.
Do you know the feeling too and if so what are your craziest passions? Do you occasionally wear a corset, a ball gag or do you prefer stretching your ass with a butt plug? Whatever, just write in the comments and let me know. I find something totally interesting.
Lara Larsen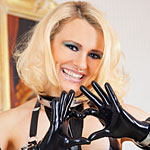 Join Now for Full Access