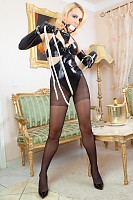 A few weeks ago I was chatting to a stranger who revealed to me his passion for bondage. He told me a lot about it and what he liked and why - and he got me thinking. I quickly became more and more intrigued. As soon as we finished chatting I decided I wanted to know more - the most "bondage" I'd ever done was trying a pair of handcuffs with a partner for fun. So I hit the Internet and began searching for information and exploring. I came across an article on Wikipedia and read a lot about various techniques - rope, leather cuffs, chains, metal restraints and even saran wrap - and about the differences and advantages. I couldn't believe there was so much to it.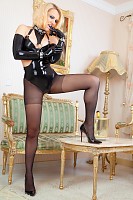 I practically read all night and was amazed by this new world of kinkiness. Like an excited child, I wanted to find out more and more so I couldn't wait to delve deeper. Next time we chatted, I told the stranger about how curious I'd become. I have a weakness for aesthetics and art and I realised from some of the images I found in my search that the way bondage looks on someone appealed to me. The aesthetics of restraint are incredible - sensual, sexy - and fit very much into my style. He agreed that it looks amazing but explained that it is not only about that - it is very much about the control of one person over another; the trust of handing over power to someone else while you are helpless.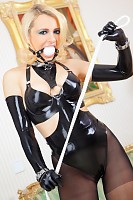 I was giggling to myself because, as he explained more, I realised that I loved his imagination and his knowledge and expertise. In my excitement at this whole new world I spontaneously asked him if he would come and show me what it's like! Now, I know it is unconventional to ask someone to come and tie you up, but he was friendly and kind and we arranged to meet the next night - and when our chat ended I was like a little girl at Christmas! I didn't sleep very well because of the excitement and wondering how I would be restrained and tied up and how I'd be all helpless.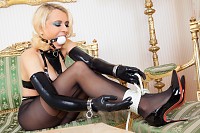 The next day went very slowly. I even got round to doing the housework (which I normally avoid!) to try to take my mind off the bondage later - but I couldn't help filling my head with how I would be tied and what I should wear for the encounter.
I decided to wear my very high Christian Louboutin heels and a pair of fine, seamed black tights and a new black latex bodysuit. I put some champagne in the fridge so it would be nicely chilled but the waiting was so frustrating and time seemed to stand still - so I polished my latex to keep busy. (And then I had to have a glass of champagne - just to check it was correctly chilled, of course!)
Our agreed time came and went and, because I was so excited, I was annoyed by the stranger's tardiness. I sat and watched the clock - the suspense making me more and more frustrated and I got a little bit angry at myself for being annoyed (or maybe that was because of the second glass of champagne)
But then my phone buzzed and I saw the message. It was him. The stranger. The man going to tie me up. I opened up the message but saw it was a picture. It was the stranger sending me a picture of a red rose but with an emergency department in the background. His message told me he had crashed and was in hospital - but he was ok.
He could read my mind and sense my disappointment as he said immediately that I was not to worry - our bondage would go ahead, but in a different way. It was a way I hadn't thought of, but something I can do myself now.
He asked me what toys or equipment I had around me. I told him I had three new ball gags - which I had ordered in extra large, even though I am only small. I had some white rope and a pair of handcuffs I had not used for ages, plus my steel collar, of course, which is always locked around my neck.
I had a feeling he liked this small collection because he immediately began giving me detailed instructions of how I could use them for self-bondage - I could tie myself up - and send him pictures of my progress on his mobile phone.
So, of course, I have captured this exciting session for you I hope you will like these very first bondage photos - and you have some good fun seeing me tied up.
Lara Larsen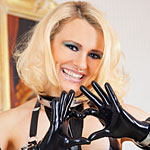 Join Now for Full Access