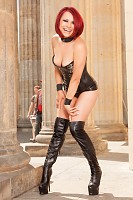 Everyone has its own wishes and goals for a time and my personal desire was to get a photo shoot in front of the Brandenburg Gate in latex clothing but this really got and sexy. The emblem of Germany stands directly in the center of Berlin at the Pariser Platz. It marked once the boundary between East and West Berlin and was a symbol of German reunification after 1990. If you drive by car on the street "17th June" you already see this big building from far away and very soon you recognize the so called "Quadriga", the wagon of goddess Viktoria with four horses.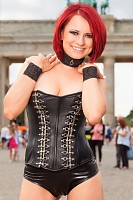 The statistic of "visit Berlin" says that in 2014 over 12 million visitors came to Berlin so why should I not also come to this place and make one of the craziest and hottest photo shootings in the worlds, something very hot in front of the Brandenburg Gate? It was not difficult for me to select an outfit which is really hot: I chose the skimpiest hot pants from SlinkyStylez which shows my pussy lips because of the little camel toe, a beautiful leather corset and I finished the look with my thigh high boots.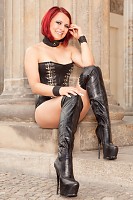 Dressed like this I walked from the car through the city as my master ordered to me and already felt the looks of many tourists on my outfit. I was walking through the city exposing my perfection and wore some pants like a girl why I got butterflies in my stomach and my panties drenched of my feminine scent. Did they wondering what this little girl makes in the center of Berlin or did these guys thinking cute what they can do with my sexy perfection?I really imagine all them wanking and cum hard for me. I thought everything kind went through their minds but then someone asked my photographer after the first picture for what magazine these photos will be done and where they can see these cool pictures.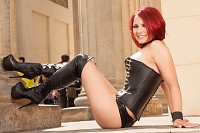 The sweetest compliment was from an older man who gave me a cute compliment about my perfect and sexy look and he will buy the issue of Playboy where my photos will be published. That made me so proud because I know that everyone thinks in the one and dirty but in the other hand about a famous sexy model.
Okay, I don't want to bother you with my feelings how I stand in the corner and block you from watching these sexy images which hopefully bring you a lot of pleasure....so feel free to cum hard looking at me. Let enchant you and if you are ever in Berlin and visit the Brandenburg Gate for yourself then remember that your little Lara girl was right in the middle of the Pariser Platz and made these saucy photos for you.
Lara Larsen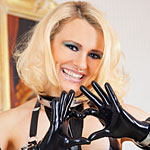 Join Now for Full Access