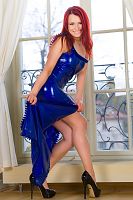 Sometimes you wear sexy clothing just because you love the feeling in it. But there are also clothing which you wear because you like the hot look or because you need to have some for now reason. But if you get a latex dress which fits so perfectly on your body showing every curve of my female body and this looks so damn sexy – there aren't the right words to explain these feelings.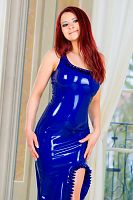 That was exactly the situation how I felt as I got this beautiful dress designed by Jéromie Gilbert. He is such a talented designer who could create such a perfect classical blues latex dress with such a naughty high cut of my leg.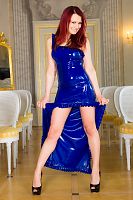 A dream comes true to have this dress and a much bigger dream which came true for me to wear this cool dress. It was one of the nicest latex dresses I ever had in my wardrobe which I only take for some very special events.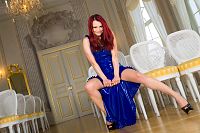 These photos and the fantastic HD video were done right after a piano stage show who had invited me to his show. A very special nice photographer wanted to make some photos of him and later he also wanted to do some photos with me.
Of course, this dress was the right choice for this special event: Elegant, sexy and unique for such a photo shooting. With thousands of butterflies in my belly I sat to the show but all the time thought about this upcoming photo shooting. Is the latex dress good? Is the latex dress sexy enough? Will I have some cool poses? I had questions over questions to myself. Finally, this photo session was a create result and I'm very very proud about it. So now enjoy these photos and the HD video.
Lara Larsen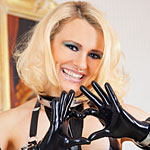 Join Now for Full Access