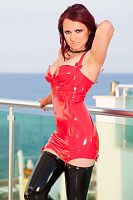 Women always keep something special for you to seduce a man. For sure the most classic seduction elements are fishnets and personally also love them a lot. If there wouldn't be my passion for latex. So I have been thinking in these images how I could surprise you once again.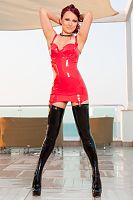 RED – came to my mind immediately and so I chose my beautiful dreamlike red latex dress and which fits beautiful to my red hair color. I've seen pictures where girls have worn this dress but it was anything but tempting. That's why I hope even more that you feel a great and aroused with my images and I seduce you with my shiny fashion. 😃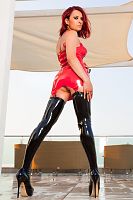 In the beautiful hotel area I wore this beautiful red dress and combined it to my black latex stockings. This proposal – to be honest - came from my photographer. He loves my legs in shiny latex and he said nicely teasing and makes boys horny. And if that's real what my well experienced photographer said then I'm sure you will have you have a lot of pleasure – isn't it? Well, I remember the nice advances of other guests from the hotel and everyone liked this combination of black and red latex with my redhead.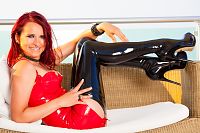 Now, I don't want to bother you any longer. Again I tell you how good it feels to wear latex all the day and how I like to know what people think about it. And of course, you know very well that latex is my life and my passion and I feel really sexy in latex. Therefore, I invite you now to my pictures and look forward to hear your thoughts about this photo set. I hope you will have a lot of joy because I truly believe that this series is glossy and seductive. Enjoy now this seriously shiny seduction of a glossy latex girl.
Lara Larsen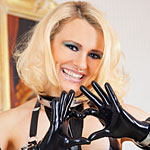 Join Now for Full Access