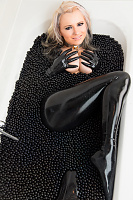 On some days, I have to process a lot of men. That's my business and I love it. But if such a day is over obviously I feel really dirty. Such a real DIRTY GIRL! Okay, I know exactly what you're thinking right now: Lara is always dirty and kinky on the same way. And even I was not a toy I'm still dirty in mind uh? Of course, I can't complain. But I digress, because this time I'm serious. I am very dirty on both ways and to clean my body from all men I need a nice shower.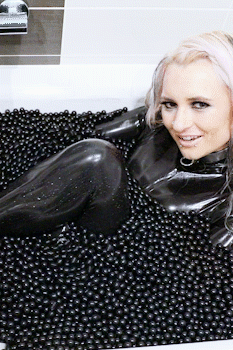 Rarely, a shower is not enough for me and then I want to take a long bath. It'S just to clean and start a good night for myself or someone and feel good. On the other side being that dirty is sometimes mind-blowing. You know what happened and with this knowledge this picture series came in my mind. My very special bath was in black water pearls and here I'm the little black rose that felt totally well and good in it.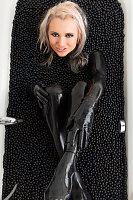 In my black latex suit was the world perfect for me once again. Overall I love black but also this black bath. No question that it was not my intention to clean for the moment. This was about much more! I wanted to go behind the borders without limits. Exactly, what a DIRTY GIRL should do… sometimes.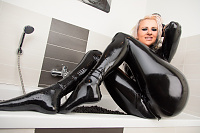 This time, I was fully rubberized and regulated myself in the wet. Somehow, the beads were totally mad on the skin. I felt this moisture but it was not like water. I was surrounded by black pearls, my black latex suit, my latex stockings and my gloves completely covered me.
Wait, did I say I was completely wrapped in latex? Ok, you will wonder if I was really so dirty wrapped in my latex. And yes, it was me! I was enclosed in men results for myself because I also chose a black latex mask which completed a transformation again into a real dirty rubber doll. A toy for everyone and ready for fun again. Perfect thing for but it in a bathroom isn't it? Or would you dislike me as your toy? Would you prefer me to get cleaned in each hole for you? Anyway, I wish you extreme rubber feelings with these dirty pictures and the videos!
Lara Larsen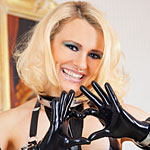 Join Now for Full Access