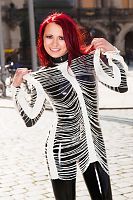 Who has not noticed yet – you should know – I LOVE my black tight latex cat suit like crazy! Being totally wrapped into latex is a fantastic and positive feeling for me because I feel so salvaged in it.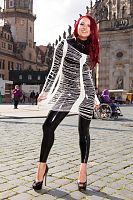 At the day as I was writing my report about the city Dresden it was also needed to visit and write about the Dresden Cathedral. Not only because the Cathedral is connected to Dresden Castle but also because I really like the look of this cathedral. This is not usual and so I thought it is worth to see.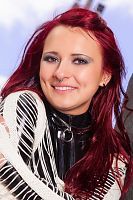 A had my new white shirt from my beloved designer Rave Punk and because I love to combine black and white I saw that wearing my white shirt over my tight shiny latex suit was looking really sexy. And of course I took my beautiful high heels to this dress and to show my attitude I took my strong metal collar on my neck.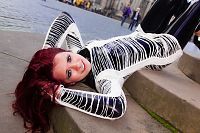 But I see I fall into details and I don't want to bother you with my latex passion and want to bring your look up to my photos here. I think there is a very special mood in these photos. I'm always wearing latex in public and so I get often asked how it feels for me. How it feels if guys scan my body curves and try to catch a view on my female body details. Well, it doesn't matter for me what other think at all but to be honest I'm as dirty that I really enjoy it. Join Now
I don't know if it depend on the people around me and how I stand in front of them in latex but I think most of them notice that I love my fashion. I live latex and for me it is normal, fantastic and very comfortable. I simply feel good in latex and I assume that people around me notice this little detail. But anyway, it was again too much from myself… please tell me how you feel when you watch these photos. 💗 Join Now
Lara Larsen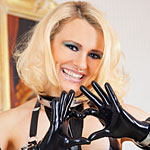 Join Now for Full Access