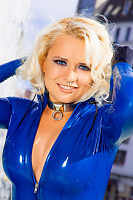 I didn't expect so many people to be there when I walked to the fountain. I could feel all their eyes on me as I approached, wearing a skintight latex catsuit and high heels on a swelteringly hot day, and I could read their minds: Is this girl crazy? Little did they know that with them all watching me, my body covered in shiny blue rubber and my steel collar glistening, I felt sexy, kinky and slutty 😉 So maybe I am a little bit crazy *giggles*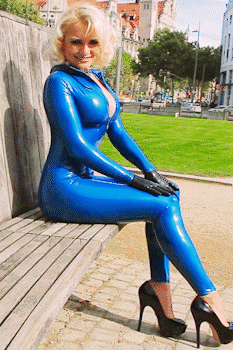 The fountain for this shoot was a real surprise to me. You must know that feeling where you think you know the city you live in but then you discover a place you never even knew was there?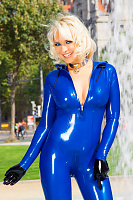 I know my home town of Leipzig really well but I usually drive around and am probably focused on other things. On one occasion recently, though, I was cycling and came across this beautiful fountain I'd never noticed before.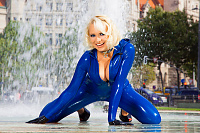 I loved it and immediately thought the cool blue waterfall would make a great backdrop for a photo shoot and I had the perfect outfit in mind: a very special new cool blue latex catsuit from Simon O.
It has a perfect detail for standing in front of a splashing fountain: a hood! This is what makes it special for me because I LOVE hoods, and the guys at Simon O know that. It's why they have called this new catsuit "LARA" 😃 I'm so proud! *giggles*
For the shoot I decided to add my new collar from Dreams of Stainless Steel. It's a wide and beautiful ring that is fitted exactly to my neck and the cool steel contrasts beautifully with the blue rubber. It's snug and rigid and closes with a lock so I can really feel that I'm collared.
I loved the look and felt seriously sexy but had to hope the fountain would cool me down on a very hot day; a rubber catsuit in the sun can make for a very hot Lara 😉
So that's how I came to be walking to the fountain in sweltering sunshine, being watched by lots of people. They were all dotted around and we asked them if they could move closer together so we could get some cool pictures. Some of them wanted to touch the rubber and see what it felt like and they asked some questions. How do you make it so shiny? Is it hot? Is it waterproof? They had probably never seen a girl wearing a latex catsuit before and were very curious, but as we started taking photos they all went quiet and watched. Certainly some of them thought I was a kinky freak, so at this point I decided to reveal a final little surprise for my outfit: a latex face mask. I took it out and put it on right in front of everyone, slowly enveloping my head in tight latex, sealing me off, blind among all these people, transformed into a total rubber doll 😉
It was a crazy feeling. I couldn't see anything and my hearing was reduced to muffled sounds of the fountain splashing behind me. I was standing on a slippery surface on display in latex, knowing I was being watched, a helpless doll in front of all these people, but I felt alone with myself. I felt the tight latex on my body and felt comfortable. It was fun.
When we finished the shoot I thought it very sweet that all the people applauded me 😃 It was a nice touch. But, for me, I just want you to have fun with these pictures of your rubber doll 😃
Lara Larsen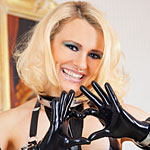 Join Now for Full Access