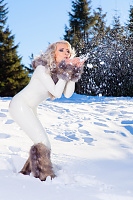 Whenever the snow is new and clouds are away, the sun is showing up again after a long snowy week it gets much warmer and that feels really great. And even we had just 8 degree on the Fichtelberg it felt in the sun like a dreamlike spring day. And that is the moment when I feel extremely comfortable, active and very kinky. Now you can surely imagine why these pictures with latex clothing in the snow happen ... it just goes awesome!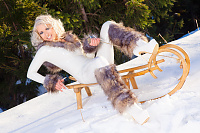 Perfectly prepared for this perfect day I took my sled and made my way. Already the view from the car was dreamful and was so fantastic that I was looking forward to these photos. I had chosen my sexy white latex catsuit with the coat which was made by Simon O. I'm sure, some didn't thought a photo shooting will happen in the white snow with my white latex catsuit but I love this catsuit sooo much. It looks so awesome and I love the soft touch and with the fur it is something very special but perfect for this place.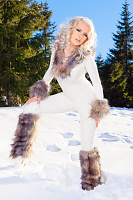 As always, the latex catsuit by Simon O. fits simply perfect as it's made to measure. So that was exactly the photo shooting with the dreamlike ambience in this unique snow landscape which I planned and wished for me. I felt perfect and enjoyed so much pose in the snow, being in the center and showing my boobies in public. It's some kind kinky to be nude in public and feels always special and with the cold snow and the shiver in my belly my nipples got so damn hard. But finally, it was fantastic because of the warming sun on my back just my hands and feet were just a little cold at all. The fun was so big and it felt fantastic to wear latex in the snow. Now, have fun with these very sexy latex and snow white pictures.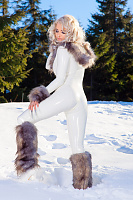 Fashion: Latex Catsuit with hood and fur trim
Lara Larsen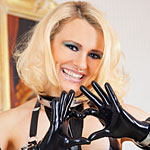 Join Now for Full Access