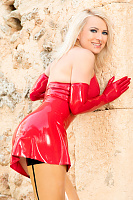 I love to travel and especially I love when I have a cool destination. A really nice destination - which makes me happy days before - have a very special charm on me. Often I'm totally excited and always think of what will happen and somehow increases my anticipation much more. I planned to visit only a good friend whom I had not seen for a long time. The evenings with her are often long and totally comfortable and whenever I feel a bit hectic in my life such small interruption is very welcome.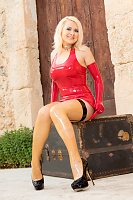 With the aim to relax I just packed my most necessary outfits and started my journey. I had to drive a bit longer by train and then take a taxi directly to her house in the country. Somehow the thought of the ride was relaxing me and so I did not want to wear something uncomfortable. So, two of my beloved corsets came into my suitcase because I never know if the feeling changes suddenly and the demand for a nice night in the latex is increasing. However, for this moment I simply chose a red summery latex dress by Simon O.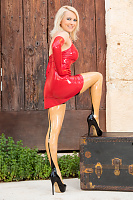 Well ok, for me it was just a more relaxing latex dress but for other passersby it was much more exciting. It's obviously the different point of view for somehow. For myself, I felt fantastic and exactly so I went with the train quite a while until I had to look for a taxi. The taxi driver grinned at me kindly and helped me with unusual motivation. The driver was particularly concerned that I really feel comfortable in his taxi and probably asked every five minutes whether he should drive faster or slower. He looked at me regularly in the reflection and I felt very much care. "How sweet these village people are", I thought.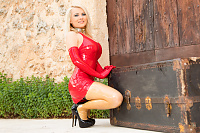 After a relatively short distance we arrived and the driver was carrying my suitcase to the front door. I rang the bell and rang the bell. Then I looked at my watch and realized that I was a good five hours too early. How could it happen to me? I was just so happy to see that I had just taken the wrong train. That really did not matter because I was now on vacation and could relax. So what more did I want?
Lara Larsen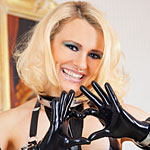 Join Now for Full Access