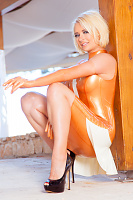 My last few photo sets have been getting a little crazier - and I LOVE it . The feeling of being wrapped in tight latex, whether it's just a pair of leggings for a trip to the hairstylist or a tight leotard with jeans for a night at a club, or even if it's a full catsuit and hood sealing me in from my head to my toes, it's something I can't help but adore. And since my experience of heavy rubber, with more than one layer covering my body, or even with bondage and ballgags, I've become an even more kinky girl.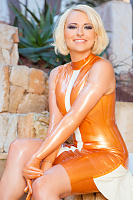 This probably sounds crazy to someone who has never tried wearing latex - maybe it's kinky and abnormal; weird; freaky! But it's exactly what I love and enjoy: the rubber gripping tightly on my skin; the smell of latex; the softness and the way it makes my skin extra sensitive; the way it moves and stretches with my body; even the sweating when I'm wearing it for a long time and sound of it as it creaks and snaps. Especially I love how the rubber is so smooth and shiny and I feel it makes my body look sexy and delicious and I can't help feeling a buzz as people look at me.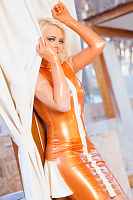 However, in my nice hotel in Majorca I couldn't really wear my totally transparent latex catsuit or a huge ball gag - even if I did actually toy with the idea for a moment or two I thought how it would feel if I tottered into the busy restaurant wearing wickedly high heels with the totally see-through catsuit covering me from my neck down, and over this a tight black bodysuit cutting high into my butt so everyone could see my shiny bum. Maybe I would be chained, my wrists cuffed and my ankles hobbled, a ball gag locked around my neck and I struggle in with everyone watching me as drool from the gag drops onto my tits ... but I had to stop the daydream because that wasn't what I was wearing today! *giggles*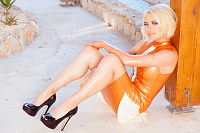 For this very normal environment at lunch in the outdoor bar of the hotel I wore my bronze rubber dress from Latexa. It's a very simple dress, not flashy - well, not for us latex lovers - but nicely bright. Even so, the dress attracted lots of looks as people had probably never seen something like this, a dress made of rubber. They watched me enter the restaurant, with my high heels and long gloves, and I couldn't help but relish the attention.
So I made my way to the bar and sat on a high stool, the latex of my dress shining in the sunshine as I felt it warming on my body, my nipples hardening as I felt them tingle against the tight rubber. It was a perfect setting, the right moment and time to relax. I hope you will have also have some relaxing moments with these sweet photos of my sexy bronze latex dress.
Lara Larsen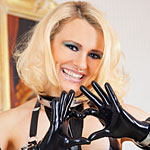 Join Now for Full Access