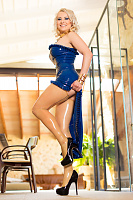 One of my most beautiful clothes was designed by the French designer Jeromie. At that time I wore this dress for a very special occasion, where elegant and long dresses were the fitting evening dress. And today I was invited to a very special evening and this blue latex dress fit perfectly. It was not a festive evening with a sect reception or maybe classical music but in a nice restaurant I can wear this fantastic latex dress just as well.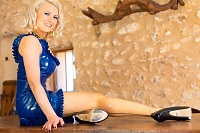 I was not at all sure if this long latex dress was really the right dress for a chic restaurant visit and I was really wondering if I should rather wear my short black mini dress. So I swayed back and forth and looked at myself repeatedly in the mirror, whether the blue long latex dress with the sweet ruffles is not perhaps too festive. I mean, how does it look when I go to a very rustic or simple restaurant and then dressed like a diva?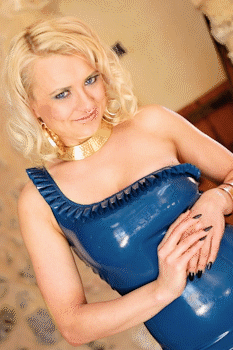 Still something unsafe I first my mini-dress but for the evening I found it somehow too cheeky. I was also told that it was more of a chic restaurant and so I took the blue latex dress out of the closet and was immediately in love again. The latex was so soft, shimmering and the frills were so fine and lovingly worked that I wanted to wear the dress. So I put the dress over, pulled it smoothly and found it fantastically beautiful on me. It fit like poured and was tight and perfect to my body. A real dream in blue with a single problem: I could not pull a panty underneath.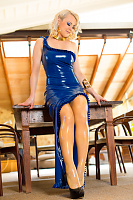 Whatever panty I chose, it was more and less under the dress. The dress was so simple and perfectly cut, that even a small string was clearly visible. This is usually not a problem, but I love it when the latex dress is super smooth and perfect. Without an interruption and without a fault. So there was, of course, only one solution: I had to wear this dress without panties. * Ups * The latex was not really transparent but the leg cut was sexy high and when I thought this neck slipped slightly while I walked or I sat down gave me a tingling sensation in my stomach. Now I wanted to wear this latex dress, because the evening can be just exciting.
Lara Larsen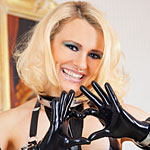 Join Now for Full Access