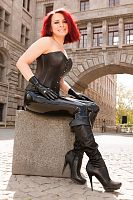 "Lara is in her element", said my photographer, as we met together in the city. That was so cute that I felt myself once again better as before. And to be honest I didn't thought that this set would be as unbelievable cool as it is.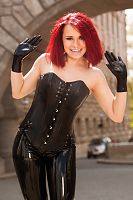 It began with this cool corset by Fetish-Design. As I received and liked it so much that I wanted to wear it right at the same day. But as many girls I had the problem that I didn't found the right clothes for this sexy corset. I thought to wear my latex mini skirt or my latex hot-pants but finally I decided to wear my latex leggings.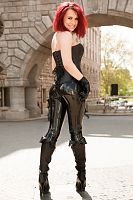 Finally, the latex leggings were perfect for me and it looked much hotter as I took my black leather boots over it. I looked into the mirror and loved this hot look so I called my photographer and beg him to make a photo shooting with me. He was busy on another set but I promised him he wouldn't regret it.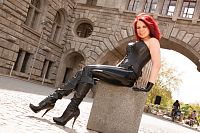 After submissively obey his demand for a photo shooting I said that I just need to wait in the city and I will come to him. That was a right decision for me. He saw me from a far distance and could not take his eyes from me. I enjoyed this situation as everyone else could not resist looking on my corset, my latex legs, my boots… and me. My walk was with proud and slowly so everyone could enjoy me. I enjoyed this situation and savor it with every step and I noticed that I must look even hotter as I thought from the mirror-look.
I think I don't need to tell you about the reaction of the photographer. You will see and enjoy it in the photos and the hd video… so have fun.
Lara Larsen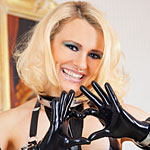 Join Now for Full Access