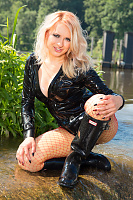 Today, I go hunting with my new Hunter boots. Okay, maybe not really on the hunt but at least I had something totally crazy. I know a channel with a small weir. On many days the channel is very quiet and the weir has nothing to do. But there are also days when much more water flows and then the water has to be diverted too.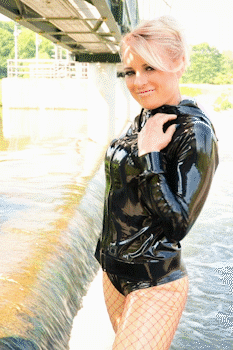 On a really nice and sunny day, I drove past the weir with my bike and saw someone cooling off in the water. It already looked cool, as the water flowed down this small increase and I came up with an idea: why not take some really nice pictures in this channel? And as a little extra I could finally put on my new Hunters-Boots!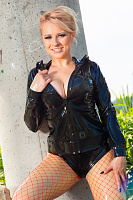 It's been a while since I received a pair of gorgeous Hunters Boots. Perfect black, shiny and just a dream. Actually exactly the pair of boots that I want to wear almost every day and at least never miss when it rains. But what did I do with the boots? Of course, the special things with me once well protected in the closet and wait for the right moment. So it can happen that some clothes wait many weeks or months to be worn. But then, when the big moment has come, then I can not put it away. 😃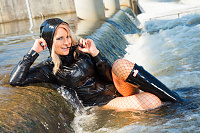 Well, at least that place on the canal with the water was just the place for my "Hunters Girl" series! On nice and sunny days I often wear high-heels and just wanted to unpack the Hunters Boots on a green meadow I did not want. But right on the water and still in bright sunshine ... there were the Hunters boots just the right choice!
With my latex hoody jacket, transparent latex stockings and over fishnet stockings, a tight hot pants Slinkystylez and my cool Hunters Boots, I was just passed for the big moment: To swim in the channel. Okay, that does not sound so exciting, but actually it was. But you can see that much better if you look at the pictures and the video. Have fun with this series!
Lara Larsen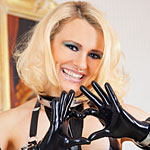 Join Now for Full Access