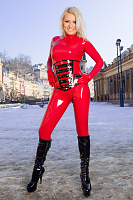 The beauty and healing baths of Karlovy Vary have attracted travelling kings and emperors for hundreds of years. This stunning Czech spa town, just over the German border and about 130km due east of Prague, now attracts contemporary celebrities: Jude Law, Antonio Banderas, John Malkovich, Robert De Niro and Renee Zellweger are regulars. And it attracted me, purely by chance.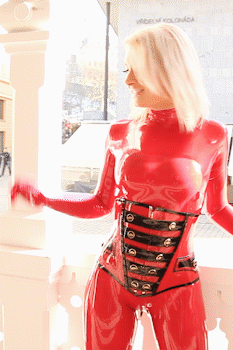 I was on my way to do some snowboarding at the nearby Fichtelberg mountain and stumbled across what I quickly realised was a highlight of all my travels. Innumerable unusual buildings were made dreamlike by the first real sunshine to break through after many cold, frosty winter days, and I decided to stay and take a tour, booking into a central hotel.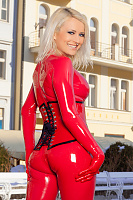 Of course, my suitcase contained lots of latex alongside my snowboarding gear, and for my tour of the town I wanted to feel nice and bright - and sexy 😉 - after the darkness of winter. Picking out my skintight red latex catsuit from Simon O, I was inspired by the dreamy buildings that resembled palaces under the bright blue skies so I teamed it with my super-tight latex corset complete with regal gold buttons 😃 Wandering around this beautiful town with my waist cinched tight and my body sealed inside skintight rubber, I couldn't help by feel sexy knowing I would be on display for all to see.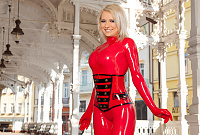 I started my mini tour at the stunning Mill Colonnade, complete with 124 Corinthian columns and 12 statues representing the months of the year. It contains several hot springs with medicinal water bubbling up from 3km below the surface at a temperature of 70 degrees. The water is said to have healing and life-prolonging powers from some 30 different minerals, and it used to be bottled and sent around the world. But the main attraction on this bright, sunny day appeared to be me! There were lots of tourists around and many stopped and wanted pictures with me, fascinated by my shiny rubber outfit and tight-laced waist. Maybe they thought I was part of the city attraction 😃
I did try the water - it wasn't very tasty! - but maybe it will help me live just a little bit longer to enjoy my latex passion 😉 Despite the beautiful sunshine among the charming houses and hotels, wearing only a thin rubber catsuit is quite cold in February, so I headed for the cover of the stunning white wooden Market Colonnade. This was only meant to cover the spas for a short while but stood for more than 100 years until the town decided to renovate and conserve the beautiful Swiss-style structure.
Legend has it that Roman Emperor Charles IV, King Wenceslaus, healed a wounded leg in the spa here. Perhaps one day it will be the stuff of legend that Lara, Queen of Latex, walked among the crowds resplendent in rubber 😃 It is certainly true that she enjoyed a delicious coffee on a balcony at the Café Elefant and did not want to go home at all. 😃
Catsuit: Simon O. Princess Catsuit
Lara Larsen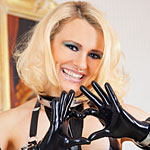 Join Now for Full Access