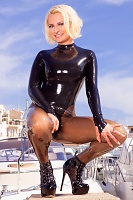 I'd never heard of Porto Petro and certainly hadn't set out to find it as I drove my rental car around Mallorca. My navigator had other things to do today so I decided to go out on my own and explore a little.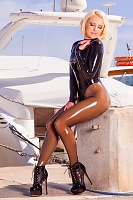 With no particular destination in mind, I'd set off, opened the windows and turned the music up loud, venturing through some winding roads and enjoying the solitude. I was surprised to find this tranquil little harbour nestling quietly, almost apologetically, like it didn't want to bother anybody. The buildings were white and bright and everything was like a picture book. I'm a small downtown kinda girl, more used to hustle and bustle, traffic jams and crazy, loud people - but everyone here seemed to have an infinite amount of time. There was no rush. There was no stress. There were boats bobbing gently on the shimmering water. I was intrigued and wanted to explore this sleepy corner.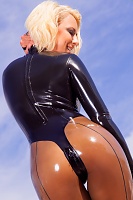 I parked, opened the door and stepped one leg out of the car - stopping immediately. My leg was shiny! This morning I'd put on my tight, Simon O rubber catsuit, with smoky, semi-transparent legs and a black leotard-style body that squeezed my boobs tight and firm and showed off my sexy ass with its high-cut shape. I was fully rubbered, from my neck right down to my toes - could I really explore this turn-of-the-century town dressed as a kinky rubber doll?! And what about my other little secret? Well ... not so little, actually *giggles*.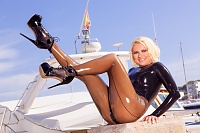 I thought about changing my outfit - I had a sweet latex blouse and some leggings in my suitcase on the back seat - but there was nowhere to change anyway. So I decided to take a deep breath and go for it right now.
I stepped out and locked my car just as some people walked past. They smiled kindly and I wondered: are people here more open-minded than some in a big city? Or maybe they just thought tight, shiny catsuits were the height of fashion elsewhere
I realised that these people were so incredibly relaxed that it would probably have made no difference if I was wearing my transparent latex catsuit, showing my nipples and pussy. Everyone looked very kindly at the rubber doll in their little town and I felt relaxed and knew I could be myself.
Here, though, it was I who was the crazy, loud person, very conscious of the noisy click-clack of my high heels on the cobbles and stone streets. Of course, I was the only one wearing high heels! But although I felt many eyes on me, nobody looked at me critically as I walked around the streets in my full rubber suit. I couldn't hide at all and the feeling of being exposed in rubber, glistening in the sun as much as the ripples of the water in the harbour, was indescribably sexy. It was hot, I could feel the latex sticking to my skin and I felt at home in the tranquility.
But even those looking at the kinky latex girl would probably never have guessed my secret today. I felt it with every step on the uneven paths in my high heels - because today, before I set off for my little adventure, I put in my butt plug.
I hope you can get a feel for some of the relaxation with these pictures and HD video. But I hope you get excited, too.
Lara Larsen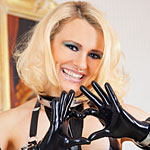 Join Now for Full Access