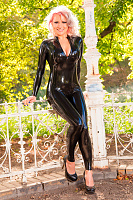 Leather! Yes, in this series there is a lot of leather and I think it fits perfectly for the now colder days. In the summer is often a thin latex dress too much and I sweat in it without much movement and without sun. Well, I think everyone knows that the sweating in latex is not a real art. And I am really lucky that I have rather little sweat and therefore latex so much like and much to wear.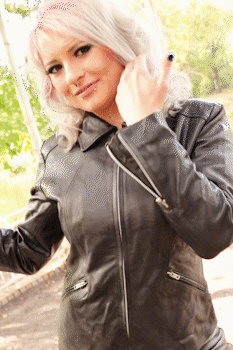 Now, however, we have the autumn and from sweating, we are really far away. It just gets a bit cooler and just when I go through the woods, there is just a little bit of latex. And so I came up with the idea of ​​wearing my leather jacket and fetish design, so I do not have to freeze. Of course I could not do without it, I pulled my black latex suit.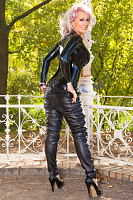 The combination was just perfect and I felt really pudelwohl. The latex on the skin, just like I love it, was a real dream. I felt as always tight and tightly enclosed and somehow gloriously recovered. But the leather held up the already colder wind and so I could now enjoy the latex every minute ... well, let's say until the sun came out. The warm sunrays did really good and were still so warm, that I decided to take off my cool leatherclothes in the middle of the park and enjoy the latex directly in the fresh air.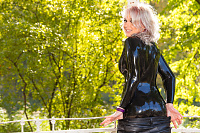 No question, of course, I was noticed again, because the black latex glitters so super beautifully in the sun. And when these pictures were made at the pavilion and I was standing there in latex there came people from all sides and wanted to see this pavilion. I did not know at the time that this small and insignificant building was so important in my park. But the more beautiful the pictures and the videos have become. So gaaanz much fun with LEATHER and LATEX.
Lara Larsen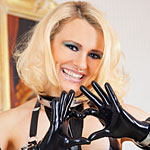 Join Now for Full Access