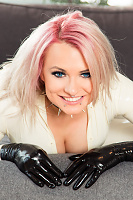 Hooray! It's snowing, at least occasionally, and I'm really looking forward to the holidays. OK. You will surely say that there is always something to celebrate. And you are totally right! On the other hand, X-Mas is X-Mas and something special. And if it's snowing at this time there is nothing better, right?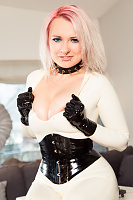 Of course, I spend the beautiful time in the middle of the action and drove straight into the mountains to catch the first snowflakes. And to be honest, I was also very lucky, because on the very day when I arrived at Andreas-Berg /Harz it started really hard snowing. The whole mood made me grab my white latex catsuit.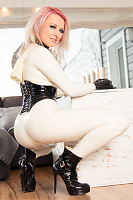 I don't know why, but I love this suit very much. If you wear latex yourself, you probably know latex is sometimes different. Sometimes, latex is a little firmer and less flexible and sometimes the latex is overly stretchy. In contrast, a suit can be super soft and feel really comfortable and that's what I experienced with this white latex catsuit.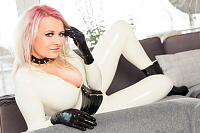 So I just chose this super comfortable latex suit to wear just the right outfit for the snow and Christmas atmosphere. Ultimately, the choice was just right. The apartment was super warm and I sucked the heat because I wanted to walk a bit through the snow later. Now, it's exactly the 2nd Advent and there it can be a bit solemn and so was the white suit on the one hand to feel good and on the other hand to the sexy look as perfect.
Who has the feeling that latex could not fit into a festive mood, which is completely wrong. While this series may not really get you in the mood for Christmas, it certainly could be a bit warmer. So have fun with these "hot" pictures.
Lara Larsen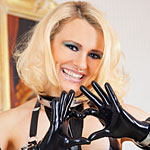 Join Now for Full Access