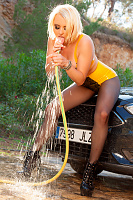 There has surely been a moment for every girl growing up when you're sitting with some friends watching TV or a movie and it builds up to a seriously sexy scene. The action on screen hots up, the girls are looking amazing and moving like porn stars and you're sitting there watching with some boys and you think: "What if I did that?" For me it was with the movie Wild Things and that amazing car wash scene. Neve Campbell and Denise Richards get seriously hot and horny soaping down a car and their cute but boring outfits get drenched and dirty, their bodies showing through their soaked white vest tops and little denim shorts.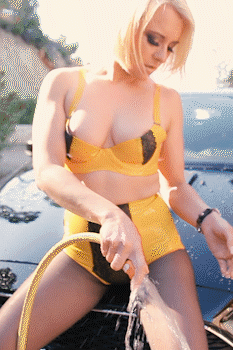 Maybe it is just me. 😜 I love that kind of scene but usually end up feeling jealous of the girls and find myself wishing it would happen to me - I want to be the naughty little girl teasing the boys and turning them on. So then I thought, hey, I'm a model now: I CAN do these things. So that's where the idea for this new set of sexy HD pictures and video came from. I decided I wanted to turn you on in a car wash scene.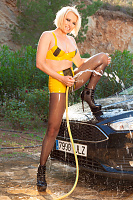 I had a bit of a problem thinking about how to realise the "wet" part of the sexy set-up. Those girls are just messing around and being sexy in their "normal" clothes but my normal clothing is rubber and that, of course, is waterproof! But then I thought about something "normal" that I often wear out for the day: a short latex skirt or a pair of tiny latex cameltoe hot pants over sexy sheer black nylons. That's when I thought the wet part of me doesn't have to be my nice big tits ... it can be my sexy legs! Nylon tights - perfect!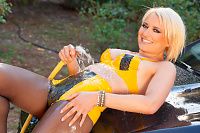 So, I took a nice pair of sheer black tights and put them on - with no panties, of course. I carefully gathered them up and gently wiggled my feet into them, slowly and carefully pulling them up to make sure they were perfect on my legs, enjoying the feel of the thin nylon covering me from my toes right up to my waist. I love the feel of the thin nylon covering me, making my legs look silky, shiny and sexy. I ran my fingers up and down them, enjoying the tingle of the thin nylon sheen on my legs as I checked them to make sure they sat nicely on my sexy ass. Next I stepped into a pair of tiny yellow latex hot pants and eased them up nice and high. I made sure they were pulled really tight into my pussy lips, sealing me into my pantyhose. Looking down at my legs they shimmered on this lovely summer day, even without getting wet.
The car was dirty and in my latex and nylons outfit I felt dirty, too. I began to move like a lap-dancer, posing for my photographer and trying to make him hot and horny (it worked!). I felt the pantyhose rubbing on my pussy, the latex pulling tight against me as I bent at the waist and thrust my hips like a whore. Feeling the sun on me, the tight rubber making me sweat, the hot pants making my pussy wet and the matching top sticking to my tits and making my nipples hard, I couldn't help but feel like a slut for you.
I needed to cool down so used the water to spray myself. On the latex it made a sound like rain on a tin roof, but the tights just got wet and glistened. I could feel the water run into my bra, pooling in the cups around my tits and making me shiver with pleasure. I felt it dripping down my tummy and into my hot pants where I felt the coolness against my pussy and then my clit as the latex shorts held the water.
It ran down the thin veil of nylon encasing my legs, dripping into my feet inside my high-heeled ankle boots. I'd chosen them deliberately so you can see my feet inside them and watch the water dripping, drizzling, soaking my legs and toes. I love the feel of tights when I wear them in my normal everyday outfits but in this sexy scene I was so turned on; the hot pants pulling into my ass and hips, the pantyhose rubbing against my pussy, the sexy movie scene playing in my head. Once my legs were wet and the pantyhose glistened in the sun even more, I felt like the perfect rubber slut enacting my own movie scene with my kinky little Lara twist. I love being a slut for you and I hope you like my pictures and video.
Lara Larsen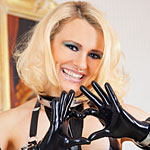 Join Now for Full Access