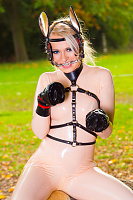 Many people have been surprised that I'm submissive. Perhaps because of some of the latex I wear, like my black Fantastic Rubber catsuit with my New Rock boots, they assume I'm a dominant woman. But I'm not. I mean, I'm not just a little bit sub; I am totally submissive. Tie me up, gag me and use me and I'm a happy slut.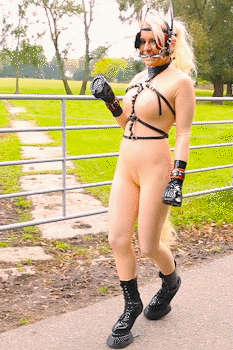 So when I first published pictures of me as a pony girl, the reaction of my friends was important to me as it was the first real time they'd have seen me this way. Many of them see my work as latex art, so to see me not as a fashion model but as a submissive girl dressed as a pony ... well ... some were shocked, others curious. A few asked about why I was displayed in this way: my head strapped into a bridle, a bit gag in my mouth so I was unable to speak ... I had to explain that it's just how I am. I enjoy submitting, I enjoy handing over power, I enjoy being controlled. Bondage - being strapped up and having choices taken away from me and being wholly at the mercy of someone else (whom I trust implicitly, of course) - is my thing. It gets me horny, it gets me breathless and it makes my heart pump fast. The kinkier the crazy idea, the better it is for me. And wearing a gag or a bridle, so even the very basic human function of speech is taken away from me ... that is ideal and such a turn on.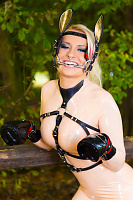 It was hard for some of my friends to understand, but they accept me for who I am. And one of them, my dear friend Dana, shares my passion for being a pony girl. She saw my first set of pony girl pictures and said I could borrow some of her things for a new shoot. I was delighted to be able to become a pony girl once more so I put a lot of thought into the shoot and wanted it to be perfect, not only for the pictures to be amazing and sexy for you, but also so I could experience the helplessness of being dehumanised: not a girl, not a person at all.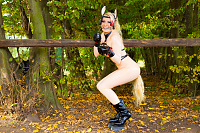 I decided on my flesh-colour "mannequin" catsuit from Simon O. I wanted to feel the humiliation of being naked, but I couldn't give up the feel of being enclosed fully in rubber all over my body: the lube; the tightness sealing me inside; the sweat as I'm kept in it for hours; the zipper cutting between my pussy lips and butt cheeks; the squeeze on my tits ... the whole experience of being zipped inside a full body latex catsuit is so sensual and erotic for me that it is part of the whole experience.
So, with my heart beating fast I covered myself in lube and slowly began my transformation from Lara, the German student girl, to humiliated pony girl with no name.
I pulled the catsuit up over my feet and legs, making sure it was positioned correctly, feeling the rubber begin to tighten around me, feeling it seal me inside. I pulled it up over my bum and very deliberately positioned the zipper. I knew that my hands would be useless so I wanted the zipper to be part of my bondage. I pulled the catsuit very high at my waist and nestled the firmness of the zip right between my pussy lips so I could feel it rubbing against me, tugging it up into my ass so it split my butt cheeks and dug right into me. Once my hands were useless, I'd not be able to tug the zipper out or reposition it and I'd have to deal with it cutting into me for however long I was kept as a pony girl. I could feel the tingling if arousal beginning in my tits, my nipples hardening. I pulled the suit up over my belly and my now sensitive nipples, tucking my firm tits inside the rubber and feeling them being squeezed by the catsuit. I wriggled my arms into the sleeves and slid the suit up my lubed shoulders before pulling it tight around me, noticing my nipples forming firm bumps pushing against the rubber as I struggled with the zipper to seal myself into my second skin, naked to a quick glance but neatly packed inside tight latex from my neck down. Even at this point I had to pause a little to catch my breath. The whole process turns me on and the zipper pulling against my clit had made me wet already! 😉
Next came the very special pony boots. They're heavy and tiring to walk in, different from my usual high heels and a real part of making me feel like a true pony girl. They may have been tricky to walk in, but a pony girl never complains so I just carried on.
Next came a leather harness, an extension of the rabenleder.com bridle I wore in the first shoot. This one strapped around my body and between my legs, the dark leather contrasting beautifully against my flesh-coloured latex.
I was so turned on my now but still had more to put on and, of course, I had a photo shoot in front of my friends. I had to try to calm myself.
The bridle came next and I needed some help to strap it onto my head, positioning it so the bit gag sat perfectly in my mouth. Once the final buckles were tightened and the gag pushed deep inside, flattening my tongue and denying me the simple ability to even speak coherently, it was at this point that I suddenly felt the real transformation. I couldn't even make myself understood to thank my friend for helping me and, with that simple denial, the humiliation of being now forced to mumble so she looked at me, confused ... that moment I felt tingling all over my body. I was now submissive, gagged, strapped up and stripped of dignity. I felt sexual excitement course through my body.
My tits tingled, my face was flushed, my pussy wet and sliding against the tight zipper cutting into me. And I wasn't even finished. If I thought the gag was humiliating, as drool began to form in my mouth and I could do nothing to stop it as it began to drip, the next item my friend handed me made my heart jump.
A pony has a tail. I was to have a tail. My tail was not going to simply be attached to the harness, though. Oh no. I was handed a long horse-hair tail attached to a large butt plug I'd have to wear the whole time. Until this point I had handled the humiliation well; the tight catsuit, the boots forcing my feet into points, the straps and bridle preventing my speech. But now I felt real humiliation. Everyone would know that the tail was plugged inside my ass, that I was stuffed with the humiliating adornment. I blushed. I didn't want to be plugged in front of my friend but I knew I couldn't complain. A pony girl doesn't complain. (And even if I wanted to, I had a metal bit gag in my mouth and no one could understand me!)
So I took some lube and coated the plug, unzipped my catsuit just a little and slipped my fingers into my butt to make sure I was lubed, too. Then I relaxed as much as I could to begin to push the plug inside me, easing it in and then letting it slide out again as I felt the sting of it stretching me. Gripping it firmly again, I took a breath in and out then pushed again, feeling it go further this time but still not far enough. Boy, this was big. Once more I tried, relaxing as much as I could, easing It in and pushing against it with my butt until - pop - it disappeared inside me and I gasped as I felt it fill my ass and seal my hole. I stood up and felt the weighty metal plug settling inside me, my pussy dripping now at the depths of the humiliation, sealed, buckled, gagged and plugged. I closed the zipper around the tail now hanging out of me and I couldn't even look my friend in the eye when she returned with my last pony girl piece: hooves for my hands. These would make my hands useless and make me completely helpless and reliant on others. I had to slip my hands inside each one and then ball them into fists before Dana pulled the hoof-gloves up my wrists and strapped them tightly. With them both buckled up, I stared at my stumped hands: I couldn't pick anything up, I couldn't adjust any straps on my body or move the zipper (which was now seriously pushing the anal plug inside me), I couldn't touch myself, I couldn't even scratch my nose! I was helpless. Submissive. Controlled. Humiliated. And I was so horny I could barely focus on my shoot.
Trying to regain my composure I was snapped back to reality as I was pulled by my bridle out into the sun. I was led, trying hard not to fall in the bizarre pony boots, to an area where cyclists and hikers were passing by. I tried to protest but I had no say and could only trot along behind, humiliated as people began to stop and stare at the strange pony girl, strapped up and helpless.
I can only hope my humiliation gives you some pleasure as you look at my latest pictures and HD video. Reliving it myself is turning me on all over again. I think I need to find my dildo 😉
Fashion: Latex Catsuit
Lara Larsen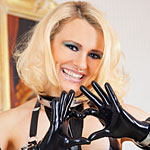 Join Now for Full Access