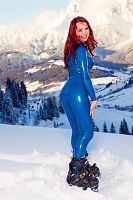 One of my most favorite hobbies is winter sports. Exactly, it's snowboarding and because we have currently the best time for this I was looking for the nicest place for going downhill. I was traveling to Maria Alm at Stony Sea - exactly the Aberg - and was looking forward for my first ride. The sun shone brightly and I felt every sunbeam trough my ski suit directly on my latex suit which I was wearing below.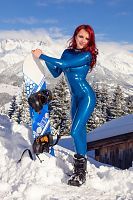 It was such a tingling and comfortable feeling on my skin that a totally crazy Lara-Idea was born! Why not take of this ugly ski suit which should warm me up if I can enjoy my latex catsuit with the sun is heating me? That's it!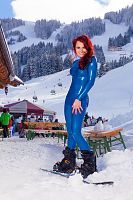 To the amazement of other skiers I firstly took off my pants and after this my jacket and felt within a second free and totally sexy. Immediately, all eyes spot on my shiny body. For a short moment I wasn't sure if it was the sun or the look of the observers all around me which were warming me up so good. Of course, I did know what everybody thought and I felt so proud standing here with my blue gloss latex cat suit in front of this so beautiful panorama.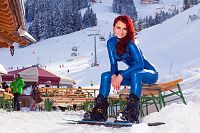 Granted, over time it's getting slowly cold in latex and the snow is burning on my skin but otherwise the feel good of wearing the rubber on my skin with all curious look on me to study my body was it totally worth.
Now, let me wish you a beautiful time with all these photos and I hope a little snowboard fun mood is swapping over to you and you may feel how much I enjoyed this dreamful moment.
Lara Larsen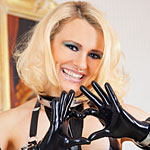 Join Now for Full Access