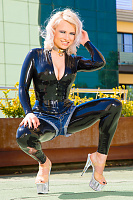 When I arrived at my hotel in Mallorca, I put the heavy suitcase full of latex in the first corner and enjoyed a Mojito and started to relax. I lay down on my big bed and looked at my website in the live chat if someone had just some pleasure and time to chat. After a short time some totally sweet conversations and about every second envied me around the radiant sunshine.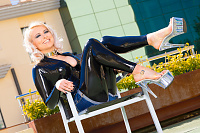 Of course, there were the doubters, who could not imagine how it is so wonderfully sunny when they have to experience a rainy weather. Or also that I just completely in latex a super beautiful view from the balcony of my hotel enjoy.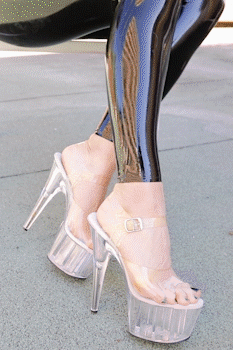 I just can't sit on that! So maybe that was intended, but I wanted to take photos - right now. I already wore my black latex corset with a crisp latex corset and over it my jeans hotpants and that is exactly what I wanted to show you. I climbed over the balustrade of my balcony with my high-heels and stood on a canopy, on which I could see as on the presenter for the entire hotel.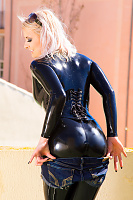 My sparkling latex catsuit shone fantastic and so I enjoyed once again the focus and to pose for the first pictures of Mallorca. Some naughty comments came from the balconies until someone with a water pistol also climbed over his railing and smiled me cheekily. Admittedly, I had not expected so much water to be in a water gun, but it was really refreshing, because the black latex was so hot in the sun ... but was it just the heated mood? Oh, no matter, main thing you enjoy the pictures and the video just like me. 😃
Lara Larsen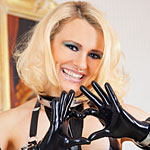 Join Now for Full Access