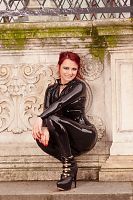 This city exploration was one of the most exciting for me so far! I was never before in Regensburg and as I stand up in the morning I really thought that the weather will make this day very awkward. That was the reason I took my black latex cat suit and over this my black latex corset and skirt. It's still latex of course but it's party two layers and that makes seriously the difference… at least for me. 😜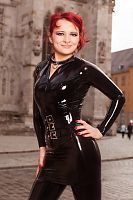 By the way, I took the hotel Orphée directly in the heart of Regensburg and I can only discourage from this hotel. The rooms looked beautiful in the Internet but unfortunately I assume a long time between doing photos for the rooms and today. The rooms looked shabby and the staff was much unmotivated.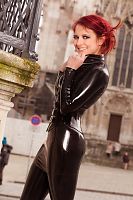 However, Regensburg itself showed the most beautiful side. Did you know Regensburg has a huge and beautiful cathedral? Doesn't worry if you don't know this cathedral… you will see more of it in my photos! Oh god, I love such old and monumental buildings and this cathedrals was very impressive for me. After this I walked to the so called "stoned bridge". A man came up to me and asked if I would like to model for his advertisement agency. Isn't this cute? But … aww I'm not a model or am I???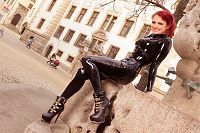 Finally, the sun pushed some clouds away and I felt sooooo good and very sexy in my latex fashion here in Regensburg. The people around were so nice to me and always looked on me, a wheelchair user turned rounds right behind me and another older gentleman gave some so cute compliments.
If you don't know much about Regensburg it's worth to visit. And if you don't want to visit Regensburg personally simply follow me on my photo round trip here in my club. I hope it doesn't deter you that I wear latex 😜
Lara Larsen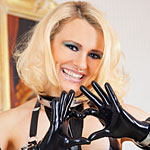 Join Now for Full Access