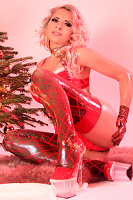 Christmas is here! And in my festive gift to you I offer a short and kinky thought while everyone gets excited about the big day. What presents might you get? Will your loved ones love the gifts you've given them? Will Santa think you're naughty or nice? 😉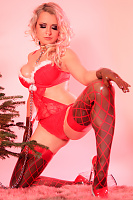 For me, I get goosebumps before Christmas. It is a magical time. But my kinky mind often wanders and for my latest photo shoot I offer a small insight into what turns me on. For while we all enjoy a Christmas gift, I found myself wondering what it would be like to be that gift - a kinky little package, wrapped sexily and waiting to be used by an excited man so thankful for his naughty, slutty present. Dressed only in latex stockings and gloves, with some naughty festive lingerie, I want to make myself the perfect kinky package.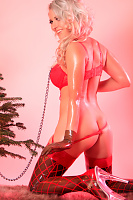 A metal collar locked around my neck to signify my total obedience to my master for Christmas (and always!), I prepare myself to be a kinky gift. The Christmas tree looks delightful, decorated with baubles and tinsel and looking oh so festive. One more sparkling piece would make it complete, though: a shiny metal chain locking me to the tree, obedient, patient, waiting to be unwrapped and used.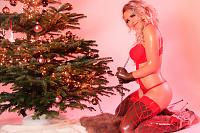 Being chained by my collar like a pet, stripped of my dignity, my sexy ass displayed in lingerie, just a tiny g-string pulling into my bum, slutty stripper heels ... I'm just waiting. I can't get away, I'm chained up. I have no choice but to wait and think about my fate. How will I be used? Will I be forced to kneel and beg for my Master? Will I be shared? Maybe I'll be ordered onto all fours, my mouth open and my ass and pussy available to be used by Master and a friend in a kinky Christmas spit-roast?
The thoughts race through my head as I run my hands all over my body, glistening, shining with lube. I squeeze my tits and tease my nipples, gasping as my excitement grows. Realising I should be quiet if I am to remain a surprise for Master, I grab an extra large ballgag and push it into my mouth. It forces my jaw open wide and I buckle it tight behind my head, clicking a padlock in place. The sudden extra humiliation hits me and I let one hand drop between my legs, slipping beneath my festive underwear to feel my own wetness. I groan and moan into the gag, now quieter and muffled like a good little slut should be. One finger, then two, I slip them inside my pussy and begin teasing between my lips, gently at first, feeling my clit getting warmer and wetter. I gasp as I begin moving my fingers faster, but all that happens is drool drips from my gagged mouth, even more humiliation heaped upon your helpless, collared, chained slut. Enjoying the thrill of the arousal, the excitement of exploring my own body, my fingers slipping easily over my clit, wet with my own juices, I'm losing myself in pleasure. My breath coming quick and short, I am only faintly aware of the tree rustling and my chain clinking gently, my body bucking and shivering with delight, the objectification of my restraint fuelling my arousal.
But then, a noise. A scraping on the roof? A sound at the chimney? I'm startled out of my excitement, short of breath, my eyes taking a few moments to come back into focus. I listen intently. More sounds, like footsteps on the roof and the gentle tinkle of sleigh bells. Chained up, gagged and unable to escape, hot and horny, wet and short of breath, my fingers sticky ... how am I ever going to convince Santa that I'm a good girl? 😉
Lara Larsen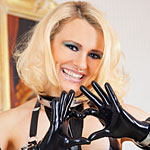 Join Now for Full Access