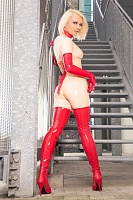 A few weeks ago, I heard the first time about a latex color called "Mannequin". I didn't know the term mannequin at all and started look for more details what we were talking and the real meaning. So, I learned that it's a French word for "Model". Actually, "mannequin" sounds totally sweet but I couldn't understand what this has to do with a color, because what would it mean that something is maybe bright or dark or black or white?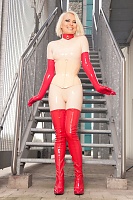 Fortunately, someone was so kind and tried to explain the truth about mannequin and that it originally described a "doll" for standing in a window. And I think you know their typical appearance. So we were taking about latex in a nude or skin color what was totally new for me and something like this is always so interesting for me. I mean, how often do you see a latex catsuit in such a rare color like mannequin?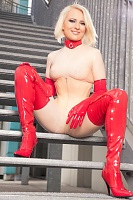 It was my wish to make everything more than perfect to do these pictures and so I thought how to make my eyes make-up perfect and fitting to the color and my blond hair. Simon O. gave me an important tip that the color mannequin fits simply perfect to red and so I choose my red long latex gloves and my new red rubber boots from my dear friend Dana. And Simon was absolutely right because the combination of mannequin and red was outstanding and exactly what I wanted to be and how I could identify myself.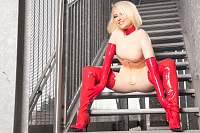 In the mirror I saw someone tasty because the latex let me look nude and otherwise not. For the passers-by who passed from a longer distance I was for sure a naked girl but with a gloss on my naked body skin. For the closer guys I was for sure a sexy shiny rubber girl with shiny legs but in a nude colored latex catsuit. I think it was that way because the latex catsuit was slightly see through and that was maybe also the reason why some people looked on my body while I was walking in the close shopping center with my hot latex catsuit to heat a little up again. Join Now
Of course, you can imagine that I walked like a mannequin through the shopping arcade because is there anyone else who has such a fantastic and beautiful latex catsuit? But now, I have told you enough and you know that also many words can sometimes not tell everything about the truth. So don't stop here but enjoy all the photos now. Looking on the photos describes even more and much better how hot is the look. Have a lot of fun with me in the mannequin latex catsuit while I'm at the Nova-Eventis in Leipzig. Join Now
Lara Larsen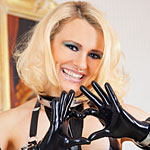 Join Now for Full Access