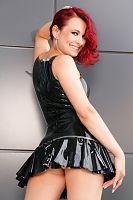 During my short stay in Turkey I wanted to collect some more details about the city and the location around the hotel. I arranged a meeting with one of the hotel employees. He told me, that he grew up near the hotel and lived all the time here so it was the right person to get exactly this information which was needed to make my report a little more personal.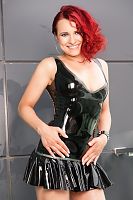 In this holiday I had mostly latex fashion with me, because latex is and remains my favorite material. Whenever it's possible I take one of my latex outfits and wear it as frequently as I can. Honestly, I do not know if this was the reason why the staff had so many beads of sweat. It might be possible that it was related to my sweet latex mini dress from Latexa… let me tell you the story.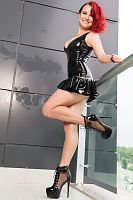 A friend of mine gifted me this mini dress shortly before my departure so I took it directly in my suitcase. I wanted to wear something non-conservative for the meeting so I chose exactly this sweet mini dress even I had never worn it before. I couldn't check for any details because I was a bit late so I took the latex dress quickly on, finished my hair and went in hurry to the meeting point. On the way through the hotel I noticed that many hotel visitors looked at me unusual horny. Was it because I walked not perfectly with my high heels on the carpet or I might forget a barrette? Just before I arrived I saw to my left a large wall-mirror and I realized why no guy could take his eyes from my body.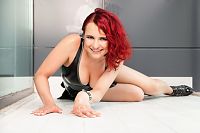 I wore a tight and slinky mini dress which was polished with passion to a perfect shine and with a deep neckline. My body curves were perfectly to see and by my quick gear my skirt was swing to each step back and forth. The dress didn't hide my ass without all the swing. So YES - I could imagine very well where every looked and how they judge me. I was wondering if I had worn some panties this time.
I walked quickly the way and still looked at the mirror because I totally loved the look and movement of my loose mini tutu. Suddenly, out of nowhere, a great gentleman with white shirt stands in front of me and I fall directly in his arms. "We aren't that much in hurry", he said with a smile to me and as I looked up, I saw my date in front of me. He wanted outwardly appear relaxed but I noticed his tension. A situation which immediately made me laughs. He took me like a princess to a small enclosed area, offered me a drink, and was expecting my questions with many beads of sweat on his forehead.
The pictures and the video came right after the short interview. The latex photo shoot was indeed not planned but as I found the dress so incredibly cute I wanted show you a few impressions. I hope that you are so fond of this latex mini dress like me.
Lara Larsen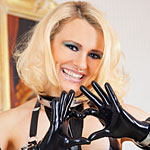 Join Now for Full Access