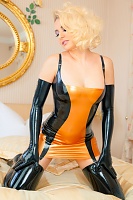 Some weeks ago, I've received my new fantastic bronze latex mini dress and I remember about my fascination about the gloss and color. I know my happiness with the dress and how I went in front of my mirror and hold it in front of me. The cut short but not too extravagant but somehow it has something special and I loved mini dresses from the first. I remember that I wanted to wear this dress for a very special image photo set.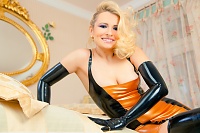 Now, the right day came that I should wear this super sexy dress because a special pinup photo shooting was planned. Of course, I was sure that this beautiful bronze latex dress would fit perfectly even if I combine it with elegant black long latex gloves and attach to the straps my black latex stockings. I thought that this combination would look incredibly stylish but somehow mini dress let me look once again sexy and naughty as I am.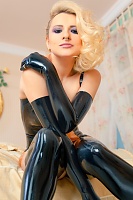 However, the place was made for pinup girl because everything was in a very classic style and I felt to set back a few decades. There was an old gilded mirror, a classic wooden chair and a beautiful large play area which took me in a pinup mood. A truly exceptional feeling for me because I always thought that being a pinup girl means to play a boring and old photo set which would be rarely sexy.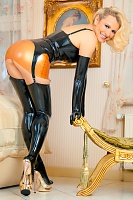 In these pictures and video it is different and by far not boring. Quite the contrary, because the latex mini dress is exactly as bad like me and with much lube it slipped always upwards with every movement and was exposing my pussy for you. I hope you can excuse me. However, I think the mini dress was more a super mini dress and so the photos and video were getting not boring but really hot again.
Lara Larsen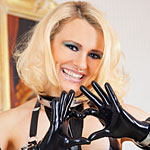 Join Now for Full Access