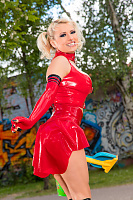 Do you want to play with me? Totally, I love long and cool games. So please play with me? Let me invite you to my favorite playground. I was very often playing here and even if I'm a little bit older today I can't resist coming back with my toys.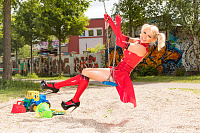 If you come with me I'll promise to take all my toys with me. These toys are also very important so that we have a lot of together, right? Oh please, let me take my toys with me. I can take all my toys or just my most favorites. Well, it was never in my way to make any decision. Making decisions is not my job at all so please tell me if you prefer the big or rather many small toys?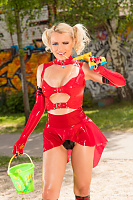 By the way, I would like to put on my red slut skirt which I myself made a few small improvements. The skirt is a part of my wardrobe since a longer time but it became somewhat boring for me. So, I did the same thing I did as a very little girl: I took the scissors and started to cut. Ok, I had shortened the skirts of my dolls and I never understood why people said these dolls are sluts because the skirt is too short. However, now I shorten my skirts and I had really needed some more practice. Why?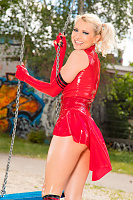 I had wanted to cut a small wave in front and then noticed that the wave was a bit oblique. I took the scissors again and cut a little more from the skirt to compensate for the slant again. But now I had a small corner in the bow and I had to compensate for this, of course. In short, I took the scissors again and shortened the skirt further and further. It was just to make the perfect bow at all.
Ultimately, I stood in front of the mirror and marveled at my work. Now, I saw the result of my cutting and saw a slut exposing her naked pussy. My cut was a little less high than I had planned. I do not know if you are ashamed with me when I show myself as usual free and with all my toys ... so I took a black slip to hide myself. I hope that you like me more for now?
Lara Larsen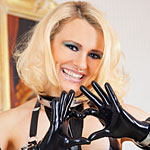 Join Now for Full Access