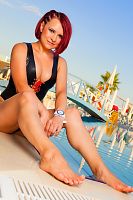 It's not that often that I have the chance relax on a beautiful hotel pool. You know that my life is currently enormously stressful and chaotic and it is right the way I like it. I love traveling round but if I have the chance to get wet in a pool like this I can't resist taking a short break.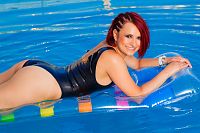 I don't want to rave about the pool without you've seen it. So, I accepted to make some just to show you the place. *giggles* OKAY OKAY! Of course I'm just kidding! I wanted to bring you these photos and hoped that you love it. Therefore, I took my sexy tight latex swimsuit and went to the hotel pool. On that day there weren't many people around what was good for this photo shooting. It is just because not everyone wants to be photographed beside a fetish model. It's probably, because a normal swimsuit can't be as sexy as a swimsuit in latex. It's not so tight, not so shiny and don't move as deep into my bum as a shiny glossy latex suit. *giggles*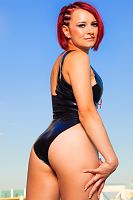 All kidding aside, this session has so many beautiful latex pictures and a short but sensual video. My suit is by the way by Latexa and my clock, which is not survived this photo shooting *cries*, is by Swiss Military Watch.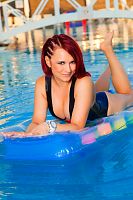 I do not think I need to rave about how pleasant it was to go swimming in my latex swimsuit. If it's so damn hot, then latex can sometimes still be a little hotter. And so it is a pleasure beyond words when I can get pretty wet myself in the water and cool down myself. Now, have a lot of fun and joy with these pictures. 😜
Lara Larsen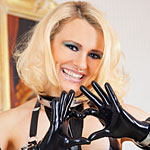 Join Now for Full Access