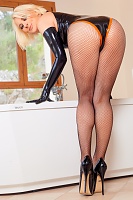 If you are wondering why I wear in this photo my high cut latex swimsuit and my fishnet tights in the bathtub I would like to reassure you. Of course, I mostly bath nude because I love to relax and wash everything well. After a strenuous working day or after doing sport it is nice to take a shower or just relax, shave and do everything what is beautiful and is fun for a girl like me.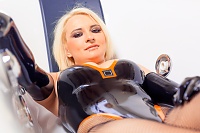 Today, I decided that will wear my net tights and take my black latex swimsuit by Simon O. over it. Seriously, it is such a nice feeling to wear latex on my skin and in the bathtub with warm water this good feeling gets much more intensive. A few days ago I was talking with a friend of me and we spoke about the fact that latex so a very special material. SURPRISE! Of course, we agree that it is simply super sexy and there is nothing beside latex which would have a better gloss. However, latex has also this special characteristic that it makes touches or so much more intense. It's because latex is like a second skin and thin and because it is so close on the body it distributes every feeling across the whole body. It is unbelievable how a simple touch or the warm water gets much more intensive perceived.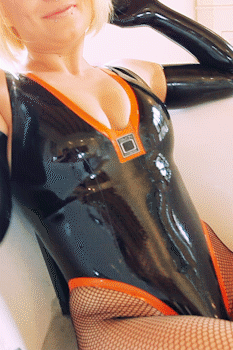 So, now I took my latex swimsuit over my fishnet tights and the feeling of being in the tub is simply indescribable. Have you every worn fishnet tights or fishnet stockings? For me, it is a fantastic feeling on my skin. It is very gently but absolutely sexy and I can know very well why whores wear fishnet stockings. Especially, if the net tights getting full with water in the bathtub you feel really comfortable and naughty. BUT I took my latex swimsuit over the tights and felt from the beginning the constant pressure of rubber on my in net wrapped skin and that was an incredible feeling.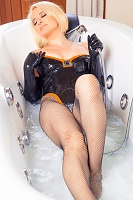 Admittedly, I actually wanted on this day relax and just have a good feeling. It was seriously my motivation but trust me that I couldn't relax in this moment. I felt so pleasantly surrounded by warm water; the fishnet tights and my latex that I preferred to enjoy. I felt so dirty and was without any qualm even I know that you see how the sprinkler let the warm water goes on my body, my tits and my wet pussy. Wearing such an outfit and feeling so naughty is a good feeling for me and I enjoyed it a lot. But judge for yourself and have a lot of fun with these images and the super sexy video.
Lara Larsen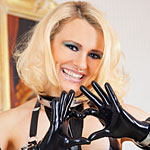 Join Now for Full Access