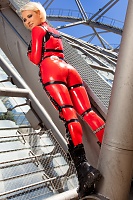 Last year, I've visited the Games Convention at the Leipzig Trade Fair and I was seriously impressed by the powerful metal construction of the glass halls. It is not just the gigantic fairground which was the reason that I lost the orientation there, not it was also the exhibitor halls for itself and the gigantic constructions of glass and steel. But it wasn't just the size but also the special design of these halls. I think that I have already written about my love of latex combined with steel isn't it? OK, I think I was telling you about my neck collar and my bracelets which are made of brushed steel which fitting perfect to latex.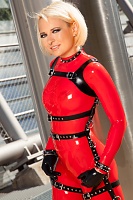 Now, I received this gorgeous red latex catsuit by Simon O. with such a sexy fit that I first had to look in the mirror to be sure if I will really wear a latex catsuit or not. My suit was so incredibly thin and soft that it was like very thin cotton on my skin. I didn't felt the latex itself so I had to look in the mirror to verify that I'm not naked but wearing a sexy latex catsuit. It is such a nice and gentle feeling that I perhaps have my new every day latex catsuit.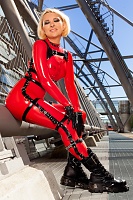 The color was fantastic and fitted perfectly to my blond hair and this is precisely why I wanted the latex suit at the exhibition center with the steel. I was more than sure that the color is simply brilliant to the steel but however I wanted to spice the look a little with something special. So, I took my black leather armor from my cabinet and took it over my red latex catsuit. It is really a cool leather construction with which allows someone to take control about my body and legs because of the hooks but in the mirror I felt like a power woman - a femme fatale.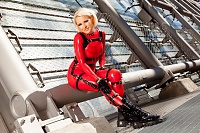 It doesn't really matter what the leather armor was intended, but for me the combination worked perfectly together and was exactly the right choice for the exhibition center. I hope that you like the pictures as well because for me everything was fitting so well together. The spring and the fantastic weather while wearing the latex in the public and of course this fantastic latex catsuit with the leather armor.
Lara Larsen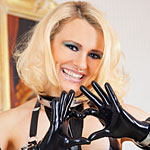 Join Now for Full Access