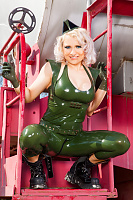 25 years ago brown coal was actively produced in the south of Leipzig, more precisely in open-cast mining in Espenhain. Of course, during this time huge excavators and machines were used which were necessary to get and transport the earth and coal quickly. Today, the former area of ​​opencast mining is re-cultivated and today almost not recognizable as arable land or lakes. Since that time there was no longer need for the big and heavy machines like a totally cool steam engine in Rötha / Espenhain.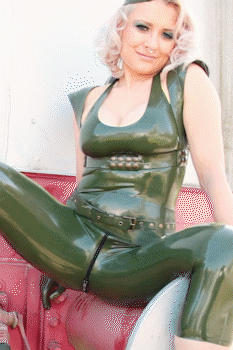 On a sunny Friday I was looking forward to a new picture series, in which I wanted to wear this fantastically beautiful outfit by GlanzGlück. I wore this combination before on a Modenshow on the night of latex loving and fell in love with me immediately. The cut, the combination and the color fit so well to me that I just wanted to give the outfit no more. And that is how it found its way to me so that it can be carried in a very special picture series.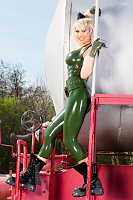 I took the olive green leggings and pulled over the longshirt. Only this combination I found totally suitable. I was not so conscious at the time that this dark green fits so well and well to me, but I felt immediately again incredibly well. The outfit, however, had a lot more to offer, like a wide latex belt and a harness, which was closed directly under my breasts and looked like short sleeves. I love such details and with the appropriate press buttons the harness was almost the highlight. Really cool was however the combination and the was still matched with a black-green boat.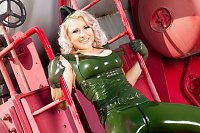 A really hot outfit and from my point of view just right to conquer this steam train this afternoon. But now enough of the many words ... surely are already already at the update and enjoys the latest update or maybe already the video? No matter what, you like it: D
A very special thanks to Glanzglück!
Lara Larsen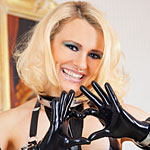 Join Now for Full Access