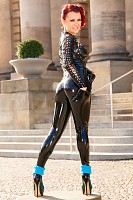 Do you know what is a federal administrative court? Okay, for sure you see only this shiny ass on the photo and you like the look of the latex just like me. Exactly, I'm sure you think like me but let me tell you quickly about the federal administrative court because you normally don't have a lot to do with it and I think that's great for sure! Well, I picked this huge building for my sexy photo set and realize later that this huge court which is representing for Germany is in the directly neighborhood. That impressed me.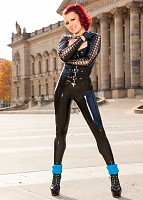 What??? You don't want to hear more about this building... hmm, why is this not surprising me? 😁 All right, then I come to the most fantastic things in this world: latex or especially my tight latex pants. If you still remember, then I have worn a pair of tight pants from Slinkystylez in my series "Tight black pants". I was so proud of these pants and loved the combination with my transparent latex blouse which was totally sexy. Well you remember for sure how people on the street looked on my shiny ass and my obvious divided labia because of the camel toe cut of this tight pants.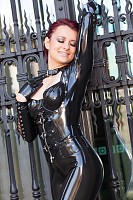 Right after these I read in a forum for sluts that SlinkyStylez produces these pants in real rubber and what was new for me. You can imagine that I had to buy it right now. The material is exactly like latex but significantly tighter. The result is that my legs and my sexy ass gets divided and shows both butt cheeks like shiny melons to the world. I think I do not need to tell you more about the effect because you see on the pictures how damn crisp these trousers are – isn't it?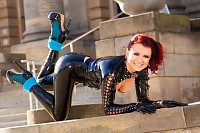 The most brilliant moment in this photo shooting was an elderly lady who I determined on more than 70 years. She stopped for a moment and looked while I was in front of the camera. Actually, I expected that she would say something funny but her comment was that she is impressed from the beauty of me and the fashion and she might have missed something in her live. Isn't it sweet? I was really thrilled and I hope that I am so open when I'm older. Certainly, this lady was a totally cool woman in her youth.
Oh, and before I forget it, there was a small group of tourists who looked with passion and without any limits on my shiny ass which obviously shown through the tight latex pants. Then one asked if he can make a photo for Uncle Tom and he would be very happy for sure. I have no clue who is Uncle Tom but I assume he is a totally cool guy because he seems to like latex, or models or tight latex pants. It doesn't matter at all but he seems to be very nice.
Finally, it was a cool day and the coronation was a message on Facebook as Frederik told me that he was watching me from his car. Isn't it cool or what? Now, I'm noticed like a little star on the road... or was it just because of my shiny look? I'm sure the perfect tight fit of my latex pants showing my shiny ass and my camel toe was something new at this place.
If you are not Uncle Tom but still want to look at my photo then let me wish now a lot of fun and pleasure with them because these images are the most beautiful pictures from the perspective of my photographer - so far. Well, certainly he has a special eye and love for my divided labia and this cool shiny camel toe or my shiny butt. Whatever it is, he likes this series... what you're saying? 😃
Lara Larsen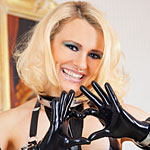 Join Now for Full Access