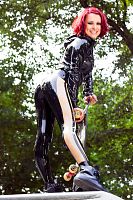 Latex is always tight and has to be very sexy and hot. It shows girls body curves in a naughty way which makes me very proud. And it is not just because I see the reactions of others even it's a nice motivator. Especially, as a girl it's nice to show what you have while knowing that this thin layer of latex is nothing hiding but showing and exposing everything… exactly what naughty girls love to do.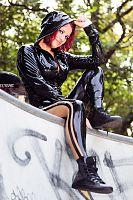 Well, you assume for sure you agreed to every word of me and that's why this photo set brings a break. *giggles* Because this set is a little bit different and somehow not. In the Conne Iceland / Leipzig is a really cool skateboard park and even I loving my high heels and boots this photo set was only sporty. Equipped with my skateboard, I went with a cool hooded jacket made of latex from Simon O. to this skater park. The jacket was cut loose and the hood is a real eye-catcher. Just as I just love latex fashion.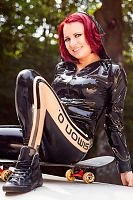 And there was really nothing sexy, tight or hot? Okay, you know me good enough that I love latex but I totally love wearing anything hot. So I combined my casual jacket with my new Simon O. leggings which have a special cut for girls like me. My leggings are exaggerated tight with a special cut to get deep in my butt cheeks and also showing a perfect cameltoe. Please, I know what you want to say now. Showing my pussy with a camel toe is a little slutty but if you be honest to me don't you like it as well? And also the latex of the leggings is special for me and the feeling was more smoothly as all other latexes I tried before. I do not know what Simon is doing with the latex and if it is to have a better feeling of latex between my cheeks but he has convinced me once again. And the more comfortable I feel the hotter it gets around or was it just me? Anyway, I felt so because when I tried on my skateboard nobody pasted but everyone looked at me and gave cool tips and so on.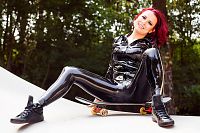 From my little story you maybe think that I have combined two totally opposing things like this loose jacket and extremely narrow leggings. Well, it is true but it looks damned sexy for me. Maybe, it's up to the leggings but these pictures and also the videos are damn hot and I can only invite you to risk a closer look to convince of my words.
Whether you are a skateboard fan, latex lover or a friend of dreamlike pictures and videos but with this session you will explore something special. And that's why I would like to have your comment and what are you thinking about! You know, I'm terribly curious and it's interesting for me to hear whether you drive skateboard for yourself and if you can imagine a skateboard with a latex girl like me. And by the way, what do you say to this gorgeous latex hooded jacket? 😁
Lara Larsen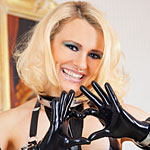 Join Now for Full Access