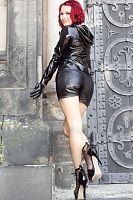 Sometimes, I seriously wonder how there can be people who don't like latex or at least the feeling of latex on naked skin. Personally, I couldn't be one day without this smooth material which is so pleasantly soft surrounding my body. But by the way there are also some very different types of latex.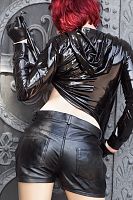 My beautiful transparent latex leggings and hooded jacket by Simon O. is the best proof. The latex is very thin and feels so comfortable. Almost like someone has washed my clothes with a softener. But please, do not do this with your latex stuff now! I'm pretty sure it would destroy the latex. And I certainly do not want that your latex breaks and finally you'd have to give up this indescribably beautiful feeling for some days.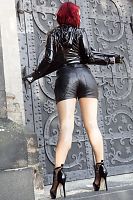 Finally, I chose my beautiful transparent latex legging for a meeting with my photographer at my favorite Italian and took over it these leather hot pants by Fetisch-Design. I was sure that my look is totally sexy again because transparent latex leggings wicked and so hot. But as I arrived and get out of my car I dumbfound my photographer with this filthy look. Quickly, he found his temper took his camera and forced me to model for him. Good girls don't offer any and to be honest I love it when my photographer capture these moment when I am dressed sexy. Especially, I love to bring joy to you with my hot pictures when I share them here on my website.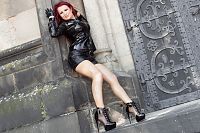 While I was looking so salacious and feel everyone's eye on me I was wondering what you think about combining latex and leather? I must admit that one year ago this look was not very exciting for me. Wearing latex for itself was even sexier and hotter in my eyes. But currently, I think I get on taste with combine tight latex with some leather pieces. Please, don't worry about my personal passion. I love latex and latex fetish and this keeps always my primary fetish. 😃
Lara Larsen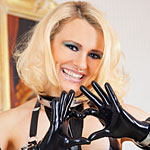 Join Now for Full Access