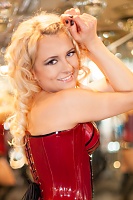 As a model are you always curious about what place will be the next one for an exciting image series. And to be honest, every time, i am anew curious because many photo shoots are in places which I could personally never imagine as an interesting backdrop for photos. When I shoot in front of sightseeing it's clear that the pictures will become totally exciting because the place itself is already incredibly and worth for a photo.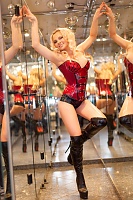 But sometimes if it's cold and not as many images can be done in front of sightseeing's special scenery is needed to make a cool photo shooting. That was also the moment when I had done my first photo set in a beautiful and classic rooms with a rope and a huge ball gag. That was my first real bondage photo set which makes me so proud. But similar surprising was to make these great pictures.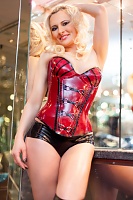 On the Fetish Evolution Weekend I was modeling on the catwalk and in the locker area where of course toilets. Well, that might be nothing special but the toilet was perhaps one of the most ingenious that i have ever seen because everywhere were mirrors. The doors, the walls, the ceiling it was all mirror and I stood in the middle of this toilet while wearing my corset and the hot pants which I should present for the designer Inner Sanctum on the stage.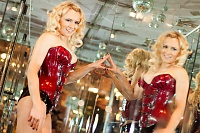 As I saw this cool toilet I could not resist to as a photographer to follow me so that I can spread my legs in front of his camera. Unfortunately, there are not too many images but you can see me multiple times in the mirror which makes the photo set really cool and incredibly exciting and sexy. So come to the girlies toilet and let you enchant by this sexy corset and this funky mirror room.
Lara Larsen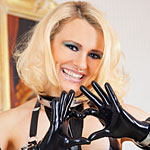 Join Now for Full Access