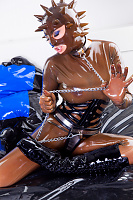 Everyone knows by now that I love latex. Wearing it pretty much every day and parading myself here for you is a bit of a giveaway, right?! *giggles* But some people have asked what my favourite piece of latex clothing is. I have to say I love wearing leggings because they are so simple and versatile. I can team them with more "normal" clothing or with a latex top for a full rubber look, and they're perfect to wear around my home, going shopping, going to a gig ... and, nice and tight, they show my sexy ass for people to look at 😉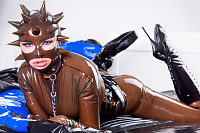 A little latex mini-skirt is also really versatile, teaming it up with some sexy sheer tights and heels, or dressing it down with some Converse or my bright red trainers. Not quite as practical as the leggings, but I don't mind the restriction of a short skirt 😉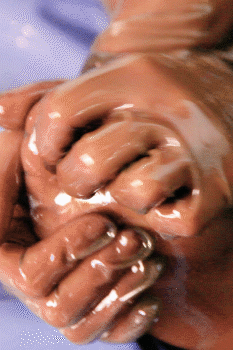 But if I had to choose my favourite, I'd have to pick a sexy latex catsuit. The all-in-one full coverage of rubber not only feels fantastic on my body, but it is also incredibly versatile in so many ways: throw on a cosy jumper and it works like leggings; pull on some jeans and sneakers and it's a cool casual top; slip my feet into some killer heels and add a leather jacket and it's a brilliant outfit for a bar or a club; pull on my warm winter coat and some boots and I have an outfit for Christmas shopping!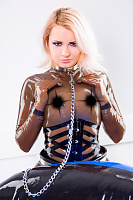 But what I really love is the full feeling of rubber all over my body, hugging every inch of me, sticking to my skin, creaking when I move ... it gives me goosebumps just thinking about it.
So when I got to try my new Latexa latex catsuit I was so excited because this one is a special design just for me. As a special all-in-one suit, this design has no zip at all and attached gloves and socks. For a latex slut like me, this is the ultimate: not only total coverage in skintight rubber, but getting in and out of it is so tricky that I need someone to help me! Think about it ... if no one is here to help me get out of this catsuit, I'm stuck inside it! *giggles* Thankfully, I had my friend with me to help.
Putting on my Latex Catsuit
Putting it on is a bit of a struggle, but it's fun. It's seriously tight and the only way in is through the hole at the neck, and in this catsuit there is the problem lots of rubber fans will know about: ballooning. With latex stockings or tights, there is the issue of getting your feet inside without trapping air, ruining the look - and feel - of the clothing. In a catsuit like this, with only the neck to allow air to escape, it is even trickier. This suit didn't even have any of the tiny air holes that some manufacturers use, so it was a true vacuum-seal. There is no way to get inside a suit like this quickly if you want it to fit properly and give a smooth, wrinkle-free finish, so I have to take my time. It needs lots of wriggling and wiggling and pulling. I'm forever puffing my hair out of my face and it probably doesn't look pretty *giggles*. But the feel of it is indescribable. I have to use lots of lube, covering every millimetre of my body right down to my toes. I always love putting lube all over my body and my photographer often has to tell me to hurry up because I can ... you know ... "enjoy" it too much *giggles*.
Bagging the suit up like a giant rubber stocking, totally naked, I stretch the neck as far as a can and slide my foot in, glistening with lube. I stretch and pull the rubber to get my toes inside, pointing my foot like a ballet dancer as I wriggle my ankle and pull gently, sliding the tight latex up and smoothing out wrinkles as I go. The hardest part is getting my other foot in - the neck of the suit is now stretched tight around my thigh! So with more wriggling and stretching and my friend pulling to stretch the neck, I contort myself to squeeze my other foot inside. It's not exactly lady-like 😉 as I have to spread my knees and wriggle my ass, but judging by my photographer's hard-on, I guess he didn't mind 😃 My friend just laughed at me.
Pulling hard on the neck of the suit to stretch it as much as we can, I manage to wiggle my toes and foot inside to the end of the sealed sock. It's a good job I'm a flexible girl *giggles* - there's no way to get into this rubber tube if you're not bendy!
Puffing a little, I am now in a kind of weird rubber bondage! My feet are sealed inside the rubber and the suit is pulled up above my knees, but the tight neck around both my legs means I can't even move much. Maybe you now appreciate how much effort I go to for my pictures 😉 I try to please you all the time 😃
Now I have to wiggle my bum a lot and pull on the suit to get it up over my thighs and onto my hips, smoothing it all as I go. My tits wobble loads when I'm doing this and I can't help but get hot with the effort, the latex now sticking to me as I work it up my tummy. I have to pause for a breath and stand with my tits poking above the neck for a moment before I carry on. It's hard work this latex lark! Another final stretch from my friend and the neck pops over my tits so I can wriggle one hand inside, slithering in into the sleeve as my friend stretches it and squeezes it to get the air out. One hand in place, sealed inside the glove and it's just one more push to get my other hand and arm inside before the neck snaps into place with a loud pop and I'm in. One little Lara, vacuum-sealed for freshness 😃
Next I have to control myself because I have my feet massaged 😃 This is necessary to ease any last air bubbles out and up my legs. I'm sure there might be a man out there who would love to massage my rubber-sealed feet, and I can't help but enjoy the sensation.
It seems like everything has been turning me on with this suit, so imagine my horror when I am shown what I have to wear with it: a heavy steel locking chastity belt!
Wearing a Chastity Belt
I look at it in shock and my photographer can't help but smile. I thought, I was going to get some fun in this full rubber outfit, but how can that be if my pussy is all locked away?
And then, another smile from my photographer as my ballet boots appear. My inner slave takes over and I calm down. A chastity belt and ballet boots is perfect for a slut who has no say in her own pleasure. If I'm to be locked away and my feet forced en pointe, I must behave like an obedient slut. To help, though, I'm handed my steel collar. Locking this around my neck always makes me feel totally submissive and once it's in place, I take the chastity belt with a demure nod.
It is tricky to put on and I need to think carefully as I feel the metal against my skin, cool against the rubber stuck to my body. The waistband fastened, I slip more metal between my legs from the back and pull it up at the front, immediately feeling it dig into my bum between my ass cheeks. It's a bit fiddly but I soon have the belt tightened and the padlock in place, then: CLICK. I'm locked up. Access denied. My pussy is off limits. I feel the restriction as I sit down and the unforgiving metal squeezes my waist and pulls into my ass. Bending forward to put on my ballet boots is suddenly much harder and I have to hold my breath as I point my toes to push my feet into the patent boots. Feeling the boots over the tight rubber on my feet is another source of excitement for me and I have to sit up a couple of times to take a breath, the metal restricting my movements. Once, the boots are zipped up I stand and look at my reflection. My feet forced upright, my ass pushed out and my tits thrust forward, I look like a slut ready to be used. I link a chain from my collar to my chastity belt and I feel my submissiveness washing over me. My body tingles and my mind goes blank. All I am is a toy; a rubber slut to be stared at, lusted over; I'm not a girl, I'm not Lara, I'm nothing.
Rubber Slut in Chastity
To complete my objectification, my friend hands me a bizarre latex hood with spikes all over it, reducing me further from human to object.
The hood in place my transformation is complete. I have no name. I can't look my friend in the eye. She is staring at me in disbelief. She has seen me in latex many times, we have been friends forever, but this is the first time she has ever seen me like this, my submissiveness complete. I feel humiliated. I can't walk properly in the punitive ballet heels and the belt is digging into me, pushing into my ass. My tits are squashed against the tight rubber of the catsuit, my nipples spread out on display, my lips forced into a pout by the hood and my head turned into a bizarre-looking object. I am hit by the double-whammy of being both horrified and aroused by my humiliation all at once.
With my photographer snapping away at me, I can't help but feel like the perfect rubber toy for you, turned on by my own helplessness locked away in this strict chastity.
I pose and feel the rigid steel against my body, my friend watching. She asks if I'm ok but I ignore her. I'm an object. I'm in my own world.
The suit and the patent boots creak, the metal chain clinks against the chastity belt and I'm lost in my own world, smiling for the camera, for you.
I lose track of time until I become aware of a voice - my photographer. We're done, he's saying. I have to snap myself out of the slut-like trance and ease myself back to reality. In my latex cocoon it's almost like I'm locked away from the real world. Only after a few minutes am I talking to my friend again, back as Lara on a photoshoot and not just a rubber toy. Then she says, smiling. "See if you can get off in that thing," nodding at the chastity belt and handing me a powerful vibrator. "I'm not helping you out of the suit unless you have an orgasm while I watch."
Still horny from my humiliation, still sealed away inside my rubber prison, with no way to get out on my own, I have to accept the challenge.
My friend smiles at me and I look at the hefty steel locked around my waist and between my legs. I reach down and tap at it, pull at it and yank it but this just reinforces how unforgiving the solid metal is. Looking straight into my friend's eyes, I click the vibe into life and place it gently on the front plate covering my pussy. It rattles loudly and makes me feel even more restricted and restrained: whether I manage to cum or not, it's going to be a noisy struggle! I can feel the vibrations very slightly against the metal and straight away I am frustrated. I know this vibrator is powerful and normally even the slightest touch from it on my sensitive clit would send me into rapture and it wouldn't be long before orgasm. But now, with my pussy sealed away behind rubber and locked metal, the sensation is dulled so much I can't help but whimper. I'm so horny, though, locked away like this with my friend watching, I can feel my wet pussy sliding against the latex. Holding the vibrator at an angle so I can press hard, I push my hips forward and grind my pussy against the steel. I can feel the vibrations a little more and so I slide myself back again and thrust forward. It's as though I'm actually fucking the chastity belt locked onto me, and this also serves to push the metal deeper into my ass. I feel the hard steel against my bum hole and get a wholly unexpected buzz from the vibrations. Spurred on by the pleasant butt arousal, now able to work myself hard against the steel of the chastity device, I feel myself getting even wetter, even more horny. I'm conscious of my friend watching and giggling at my efforts, but I'm now focused on my own body, my own arousal.
Pushing again against the front plate of the belt I feel my pussy lips spread wide, lubed by my own juices. I hold the vibe tight with one hand but explore my tits with the other, squeezing them hard, kneading myself and teasing my hard nipples, now pushing themselves against my tight rubber skin.
I feel myself biting my lip, I hear myself moaning but it is other-worldy, like I'm hearing it from someone else. I'm lost in my own pleasure, struggling against the chastity device dulling my vibrator but using the unforgiving steel to dig into my ass and push against my wet, juicy pussy lips.
My latex catsuit and patent ballet boots are creaking and snapping as I rock, now in a rhythm with the pulsing of my own pussy as I get more aroused. Trying not to wish I could feel the full power of the vibe against my clit and desperately ignoring the loud clatter of it against my locked steel pussy prison, I concentrate on what vibrations I can feel. As I rock my hips back I feel the movement in my butt, as I push forward I feel it on my clit and I concentrate on my rhythm, moving like I'm on top of someone fucking them. I feel myself getting closer to orgasm but the steel device is doing its job too well, preventing me reaching climax. But then I feel the frustration of my hopeless masturbation have an unexpected effect. Lost for how long I've been grinding myself against the steel belt, my wrist aching from holding the vibe hard against it, I swim back to awareness of my surroundings. Half opening my eyes I see my friend watching me, her mouth open and stifling a laugh. Humiliation hits me as I realise how bizarre I look: a slutty toy, sealed inside a rubber catsuit that I can't take off unless someone helps me, locked in a chastity device, my feet forced into a ballet pose by boots I can't take remove because my hands are stuck in gloves attached to the suit, sweat now dripping down my back and between my tits. This whole helplessness suddenly washes over me in a pulse of humiliation as I thrust against the steel and the vibrations catch me just at the right moment, the steel digging between my ass cheeks and my pussy spread wide. I gasp and moan loudly, I feel the tingle all over my body as I begin to climax and my clit begins to pulse. My tummy tightens, I have to concentrate on holding the vibe tightly in place or I may lose the preciously mild movements that are about to topple me over the edge into orgasm. One last pulse of my pussy and thoughts of being watched, displayed and used as a toy for entertainment, I start to feel the orgasm wash over me. Arching my back I let out a loud moan and lift myself up on my ballet heels, pushing against the vibrator and feeling my body tense and tighten, pushing my legs together and feeling the metal belt, my clit squashed hard against it. I feel myself bucking and thrashing as I experience an intense orgasm I never thought possible locked in chastity. I hear my friend squealing: "Oh my god, she's cumming!"
I push harder against the vibe, harder against the steel device locked between my legs and I gasp and moan. I have to stop squeezing my tits so I can use my arm to stop myself falling sideways. I'm arched against the vibe with my head and pointed feet on the latex bed. The orgasm ripping through me I shudder and moan and gasp for what seems like ages before I collapse into the rubber sheets. My chest is heaving, my breath coming gasps like I've just managed to swim to the surface after almost drowning. The latex of my catsuit is stuck to me by my own sweat now and I open my eyes to look at my friend. She smiles, then laughs and I giggle at her, gasping: "I did it."
"Yep," she said, flopping herself down on the bed and hugging me. "You're such a horny little rubber slut, you can even cum while you're locked in chastity."
Lara Larsen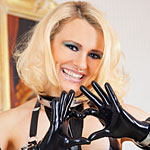 Join Now for Full Access