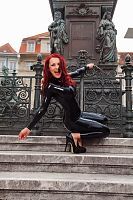 A traveling journalist is more travelling around as being at home. Obviously, that's an unconventional and crazy life – so it's exactly a dream come true for me. Some time ago a photographer changed my life as I "noticed" me and my life got an addition specialty: I still live my dream and from now it's captured with a camera. Isn't it crazy?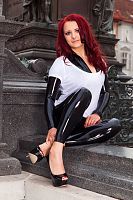 Well, the very first photo was really made from the mood. I was traveling around with my good friend in Graz (Austria). Graz is a beautiful old town with lots of beautiful places and sightseeing's. You can imagine that I felt myself to be forced to visit everything. It was a fantastic day but with time my feet were hurting so a short break was needed.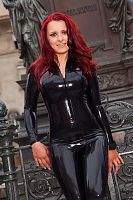 We decided to rest at the main place in Graz directly in front of the city hall. It was such a beautiful atmosphere, great weather and I felt perfect in my new black latex cat suit so that my friend took her camera to capture the moment. Seriously, we loved this photo so we couldn't resist continuing.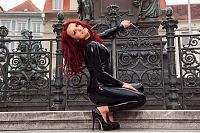 "So a very first set with Lara in Graz in Latex was born", my friend screamed. And yes she was so right. I hope you will love these pictures like us and you enjoy this good mood as well.
Lara Larsen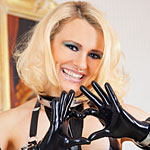 Join Now for Full Access