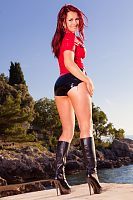 I love the city. I love the people and the normal city chaos. But when I travel in a beautiful holiday location it's no problem for me to relax. Honestly, there wasn't that much more to do in Opatija (Croatia) for me. But relaxing was quite perfect for me.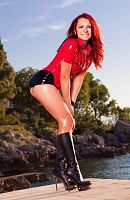 I lay on the cot enjoying the clam all around me. Some time ago I had read all the magazines, collected enough information about the next city to travel and also my finger nails were more than perfect. It was the right moment to have a little walk. I decided to wear my beautiful silver latex cat suit but unfortunately it tear while getting it on. Oh no what a disaster. So, I got back to the fashion I was already wearing. It was not that tight and I felt so home in it.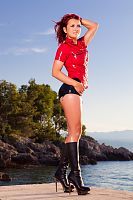 The sun was so bright shining that it was finally the right decision to wear something light weight and thin and it was perfectly fitting to my boots. By the way Opatija is a spa town with a nice promenade at the coast with a dreamful view over the sea.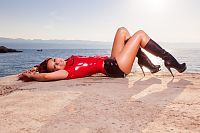 However, the tear of my catsuit was not that bad because the new thinner latex outfit was even better in the hot sun. I brought some pictures for you from this beautiful place. But be warned: Maybe you will think everything is just painted but trust me no. It isn't – it was just a dreamful place.
Lara Larsen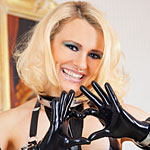 Join Now for Full Access