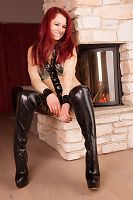 Boots aren't boots that clear for sure. You know there are boots with plateau or heels, boots in black or color and some are short and some are higher. But what would YOU say if you get the chance to make a photo shooting in ultra-high boots. I mean such boots which go far over my knees. Something, you would call over-over-knees or Over-Over-Over-Knees boots.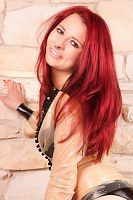 Well, I got asked if I would like to wear such unbelievable high and extravagant leather over knee boots. You should imagine this situation: A little girl, totally fascinated into everything extravagant alternative lifestyle, got the chance to wear maybe the hottest boots on the planet! OF COURSE, I'm interested in these boots.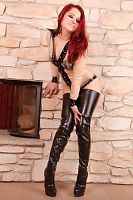 I took my transparent latex blouse and combined it with my tight latex hot pants. I was pretty sure these boots need a hot outfit so I thought this would be a fine combination. But as I took the first boot on it was not ending and stopped on my bum. It looked nice but I wanted to have a sexier look. So, I changed the hot pants to my tight latex slip getting in my cheeks and I was right. The boots stopped below my bum and let a little strip to see … for you. Wow, I loved this outfit so much. I hope you do as well so enjoy these photos.
Lara Larsen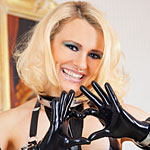 Join Now for Full Access