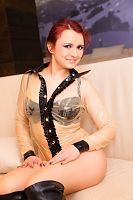 I'm traveling a lot around the world which can be sometimes really stressful. Therefore, I love it if a hotel has a sauna or a place for relaxation so that I can have a good time it and some seconds for myself.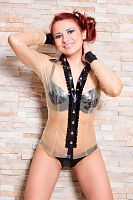 After snowboarding in tight latex fashion which was such a hot feeling for me I felt right to go in the small, cozy sauna of the hotel. Wearing latex is my life and knowing that everyone is enjoying my body and every curve is a really good feeling. But at the noon it became a little colder and if there is no sun to heat my in latex wrapped body it's getting cold of course. Therefore, the sauna was just right for me.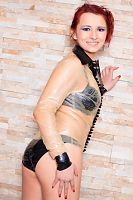 And even when I go to the sauna but think about being without latex makes me seriously nervous. So, I was looking for something small and thin and finally found my new latex blouse. It was not planned that way because I was just looking for something easy to put over but then I got this fantastic feeling I always get if I smell and wear latex. That's the most exciting and mostly relaxing moment for me. This blouse is made out of transparent latex and so a real dream for me. It's a very special fashion element for me and was always kept for special moments. And now it was the last night in Maria Alm and I planned to go relaxing… so why shouldn't it be with my so hot latex blouse?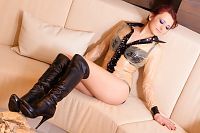 Unfortunately, I had to find out I was alone in the sauna. Missing the eyes on my body is not a problem as I know myself hot while wearing tight latex. Well, for the next sightseeing this latex blouse is already a planned element of my fashion style! 😃
Lara Larsen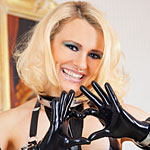 Join Now for Full Access