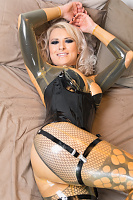 I love my transparent latex catsuit and whenever I wear it out I enjoy the soft feel of rubber all over my body. Of all the latex items I have, or would want to have, catsuits are by far my favourite. This fine second skin feels so wonderful that I often end up caressing myself all over *giggles*.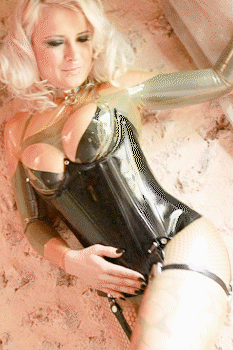 I don't think much about it but some of my girlfriends have pointed out how "wicked" the transparent suit can be with everything on view. To me inside the catsuit it feels like I'm fully covered. It's easy to forget that to those looking at me, every part of my body is on view. I don't have a problem with that really, but my girlfriends can feel a bit intimidated if I'm showing too much *giggles*.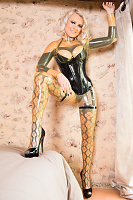 Their comments gave me the idea for this shoot. Rather than wearing the catsuit as the base of my outfit, why not have something under it? It can still be seen but becomes part of my shiny outfit. Rummaging through my closet for a pair of fishnet tights to wear with some latex hot pants to a bar recently, I found a bodystocking I'd forgotten I had. With an interesting mix of fishnet shapes, I thought this would look cool and sexy under transparent rubber - and I was right!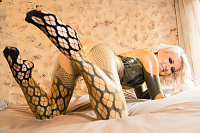 I pulled on the bodystocking and then wriggled into the catsuit, smiling as I looked in the mirror. Just as my girlfriends had said, it was totally wicked. But still my big tits were not covered up and I couldn't help wondering if I could wear the outfit just like that, my nipples on show under the transparent latex. Instead, though, I decided to try other items over the top: first a couple of dresses, then a top and a skirt, then a bra and shorts.
I settled, though, on my corset, loving how it cinched in my waist and looked shiny black against the faded effect of the bodysuit underneath. Now my boobs were covered and my girlfriends might be happier with me.
(Better not let them look at me from behind - the tiny g-string doesn't cover my ass *giggles*!!!)
What do you think? Am I sexy, too crazy, exciting? 😉
Lara Larsen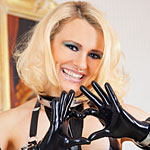 Join Now for Full Access