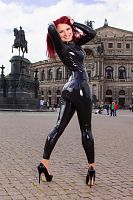 If you was ever in Dresden you know that you had a long of exciting attractions. It's not necessarily to be in latex - but believe me - it has a very special appeal with latex. : P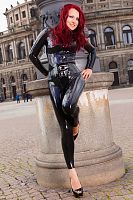 After I visited the Zwinger Palace, the Dresden Frauenkirche and Dresden Cathedral there was missing one special place: The Semperoper. The Semperoper is the opera house in the historic center of Dresden and well attended accordingly. Many tourists look at the Semperoper, because the sight is simply stunning. It's the perfect place to see if you love such monumental structures.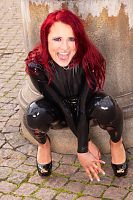 And yet I wanted to see the Semperoper. I love if I go along the streets and guys turn their heads. My fondness for latex is of course one reason. Mostly, it's sufficient to wear a latex leggings or a nice latex dress and everyone is so cute to me. However, the Semperoper was a special place and I was scared that I don't catch any attention. A simple legging wouldn't be enough so I took my beautiful latex suit and wrapped myself completely in latex. Mmmm, what a feeling.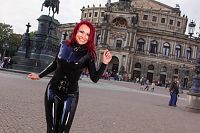 What an indescribable feeling with latex on my skin and then the adorable gloss on my arms, my breasts and my sexy butt. Yeah, just the hot look to go to the Semperoper and I had still jitters. It is not, that a tourist looks on my bum and gets hot - no I was scared about the opposite. What, if I stand at the Semperoper in Dresden and have to tell everyone that I was not noticed. That's why I had nightmares in the night before … but it came sooooo different. Join Now
I walked proudly to the Semperoper and noticed on the way that my latex suit did not miss its effect. I looked sexy and that was a great feeling. And the butterflies in my stomach made a big party when I arrived because every travel group stand right beside me and missed to enjoy the Semperoper. Probably, everyone knew the Saxon State Opera too good from photos, so that a crazy red-haired girl in latex was more exciting. For me it was a really great day with beautiful images of a brilliant place. And if you don't know the Semperoper so far then come and visit this sightseeing... with or without latex is up to you ... but I definitely recommend with latex fashion. *giggles* Join Now
Lara Larsen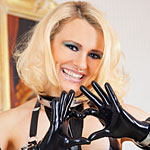 Join Now for Full Access